Health & Wellness Club
Striving on the motto, "Healthy life, productive life, I'm happy, I'll make others happy", this club teaches children how to remain healthy and maintain personal and community hygiene. 
Class Discussion – Do's and Don'ts of Rainy Season
August 26, 2023
A class discussion was conducted for grade 3 and 4 students with the objective of raising awareness about the do's and don'ts of the rainy season. The students were provided with A-4 size sheets to jot down their observations after watching a video. To enhance the activity, many students shared their viewpoints and discussed preventive measures that should be taken. It proved to be a valuable and enriching experience for all involved.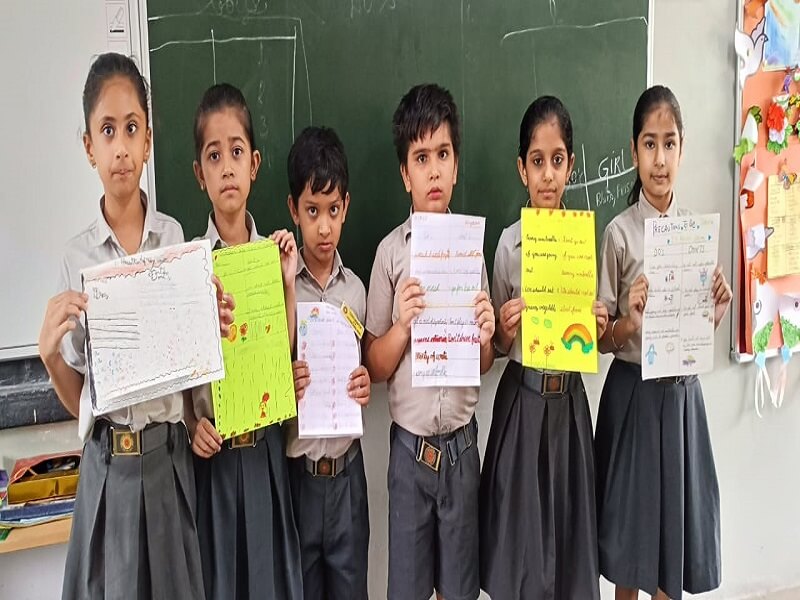 Guest Lecture – Precautions to be Taken During Rainy Season
August 24, 2023
Ms. Sunimol Ajitkumar, Assistant Professor at Choithram College of Nursing, was invited as the resource person for a guest lecture for grade 5 students. She briefed the students about the important precautionary measures to be taken during the rainy season. The session was quite interactive, with the children actively participating by asking questions and resolving their doubts.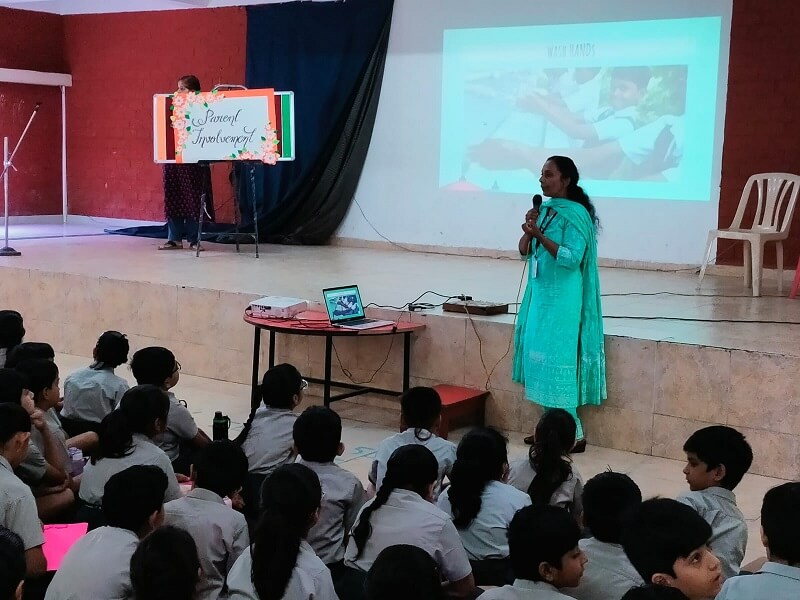 Guest Lecture Dedicated to the International Year of Millets
July 25, 2023
In recognition of the UN's celebration of 2023 as the International Year of Millets, an enlightening guest lecture was organized for grade VII and VIII students of the Health and Wellness Club. Dr. Shweta Keswani, a Clinical and Therapeutic Dietician, holding a doctorate in Food and Nutrition, and currently serving as an Assistant Professor at Shri Vaishnav Vidyapeeth, graced the occasion as the guest speaker. With affiliations to renowned institutions like Nutrition International, Children International, Medanta Indore, UNICEF, UNDP, Nestle, and NIPCCD, she eloquently delved into the resurgence of millet consumption in India. Dr. Keswani emphasized the imperative of reviving millet consumption due to contemporary dietary habits contributing to a surge in lifestyle disorders. She advocated for the consumption of millets in their pure form, particularly during morning hours. Furthermore, the lecture provided a comprehensive overview of the agricultural practices essential for millet production. The session was highly interactive, punctuated with succinct and engaging responses from the attentive student audience.
Exercising Sessions
July 15, 2023
'To experience the benefits of good health, engaging in regular exercise is crucial.' With this belief in mind, the mentors of the Health and Wellness Club took the initiative to arrange informative sessions on the 'Importance of Exercise' for students in grades 3 and 5. Ms. Monika Pathak and Mr. Vishal Tiwari led the students in exploring various exercises and their associated advantages.
Parent Involvement
July 13, 2023
'Exercise is regarded as a tribute to the heart.' Taking cues from this, the mentors of the Health and Wellness Club organized a parent involvement activity related to the importance of exercise for grade 4 students. Dr. Namrata Bang, mother of Pahal Bang, was invited to educate the students about different exercises and how to perform them.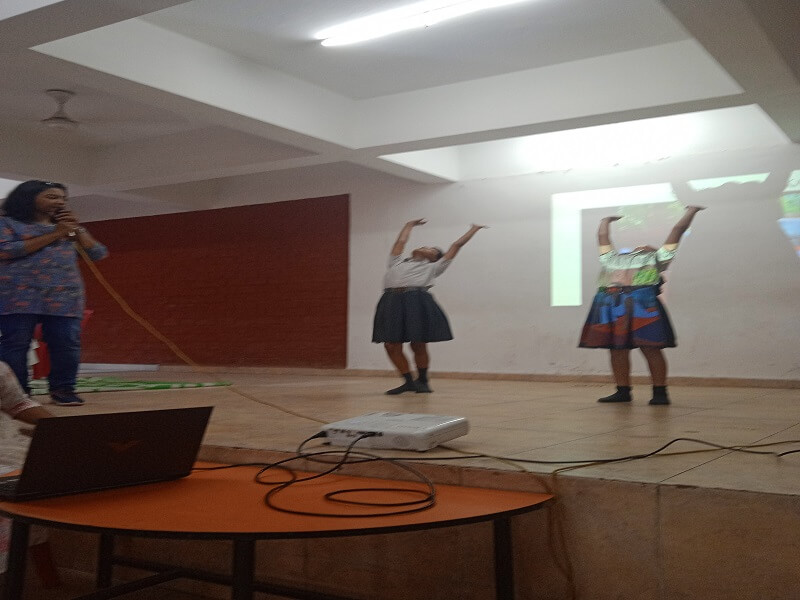 Menstruation and Hygiene
March 17, 2023
Adolescent age is a very important phase of every human being and both the genders have their own journey and have different experiences during the period of the teenage and adolescent. It becomes more important for females as it is a transition phase characterized by rapid physical growth, psychological and behavioural changes. With this thought in mind, a session regarding Menstruation, Female Health and Hygiene was conducted for the girls of class V by Ms. Surabhi Shastri, School Counselor. They got to know about the changes they are experiencing and will experience in coming future. They were taught about the female genitals and how the period occurs. It was a new experience for them to discuss about this with their friends and adults at the same time.
Safety Measures
March 13, 2023
A session was taken by Mr. Ashish Raghuwanshi, sports teacher of the school on Safety Rules to be followed at home, in school, on road and with strangers. The students were briefed about the various measures that they should take in order to protect themselves from accidents, hazardous substances and from strangers. Students of classes III and IV were made aware of Do's and Don'ts to be followed in bus, home, school and in surroundings.
Making Vaccination Cards
February 21, 2023
'Don't hesitate – get vaccinated!' With this thought in mind, the activity of making of Vaccination Cards was conducted for the students of classes III and IV. The students listed the important vaccines that they have got so far and those due soon. They were made aware about the importance of vaccines which help to prevent deadly diseases.
Preparing a Meal Planner
January 24, 2023
In order to inculcate healthy eating habits among children and to make them choose healthy food items, an activity of preparing a 'Meal Planner' was conducted for the students of classes III and IV in Health and Wellness Club. The students will subsequently note down food items they consume throughout the month and will be encouraged to avoid junk and include fruits and salads in their meals.
Poster MakingEvent to Develop Healthy Habits
November 29, 2022
Poster Making Event was organized for students to develophealthy habits and make them a part of their lives. The students of classes III, IV and V made eye-catching and thought provoking posters on the themes 'Taking Care of Sense Organs', 'Healthy Eating Habits' and 'Personal Hygiene Habits'.
Session on Emotional and Mental Well-Being
November 26, 2022
Session on Emotional and Mental Well-Being was conducted by Dr. NivritiMishra, Vice President of Anti Sexual Harassment Council on November 26, 2022 for club students of classes IX and X. Dr. Mishra talked about the struggles faced by teenagers in their routine life and gave valuable suggestions to combat them. She discussed about anger, distractions, attractions and extremely sensitive issues that teenagers face. The interactive session made the students come up with their queries and myths which were handled very well by the expert.
Doctor's Talk on World Diabetes Day
November 21, 2022
Health and Wellness Club of the school organized Doctor's Talk on the occasion of World Diabetes Day (for November14, 2022). Dr. VikramBalwani,MD Medicine and a practicing consultant at Choithram Hospital and Research Centre addressed the students of classes VI to XII in the morning assembly and created awareness regarding diabetes and measures to be taken to prevent this disease. Dr. Balwani emphasized on the importance of eating a healthy diet, leading an active lifestyle and a regular sleep pattern to control and manage the disease. He educated the students regarding obesity and its connection with diabetes.
Session by Cardiologist on the Occasion of World Heart Day
October 29, 2022
Dr. Sagheer Ahmad, arenowned Cardiologist who practices at Choithram Hospital and Research Centre conducted a session for students of classes IX and X on the occasion of World Heart Day (for September 29, 2022). Dr.Sagheer being an expert in interventional and conventional cardiology briefed the students about various heart conditions through a power point presentation. The students become aware about healthy and the unhealthy conditions of heart and cleared their doubts about various misconceptions prevailing regarding heart. They also learnt various exercises to keep their heart healthy.
Guest Lecture by a Renowned Dentist Regarding Oral Health Care
September 21, 2022
A guest lecture was arranged for the students of class VI on September 21, 2022 to make them understand the importance of oral hygiene. Dr. Anju Premchandani, a renowned dentist of the city was the resource person. The students of Health and Wellness Club interacted with her and learnt details about the correct ways of brushing the teeth. The doctor briefed the students about the oral care routine. The students asked the problems they faced regarding the oral hygiene and its importance.
Participation In Swachhata Pakhwada Organised By CBSE
September 15, 2022
Class VI students of the club participated in 'Swachhata Pakhwada', an initiative of CBSE from September 1 to 15, 2022. A session regarding contamination of water and water borne diseases was conducted by Dr. Sangeeta Thander, senior faculty of Biology. The students were briefed about importance of cleanliness and precautions to be taken against it. Under this pakhwada, an awareness drive on oral hygiene was conducted where students made posters and conveyed the message of importance of oral health and ways to maintain oral hygiene.
Natural Remedies For Common Health Issues
September 1, 2022
Natural remedies are boon to human beings which provides them relief from various ailments and health problems. Taking cue from this, students of classes III to V were made aware about some home remedies to common health issues and were encouraged to prefer natural remedies for small health problems.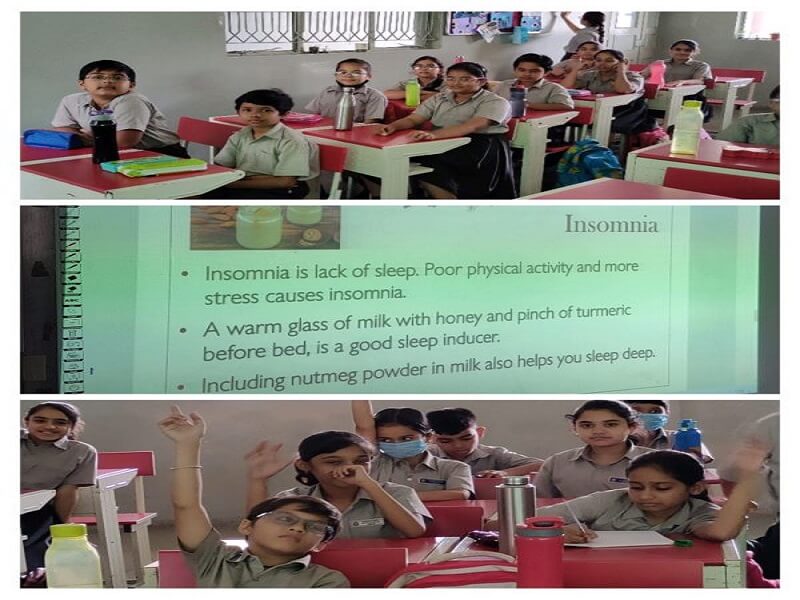 Making First Aid Box
August 4, 2022
Students of classes III to V made first aid boxes which made them aware about how to deal with any emergency related to health and fitness. The students were explained the usage of each and everything kept in the first aid kit followed by discussion on the situations when to use it.
Yoga Exercises
July 7, 2022
'Yoga adds years to your life, and life to your years'. In this context, the students of class V learnt some basic yoga asanas. The objective was to strengthen children's growing bodies which in turn helps to improve their immunity and flexibility.
Let's Learn Table Manners
February 26, 2020
Good table manners are vital skills that should be developed in children when they are young. Keeping this in mind, a demonstration on table manners was given to the students of class I by the students of classes VII and VIII. The young ones tried to emulate what they had learnt from their senior friends. The activity aimed not only in teaching table manners but also sensitized the young ones to value food by not wasting it. The children relished the delicious mouth-watering delicacies and sharing a meal with friends was a pleasant experience for everyone.
Heart Defect Awareness Day
February 14, 2020
A special assembly was conducted on February 14, 2020 on the occasion of Heart Defect Awareness Day. The students presented a street play through which they informed the audience about heart defect, symptoms, diagnosis, treatment and the precautions to be taken in the diet and regular routine. The punch lines, rhyming script, chorus and powerful delivery made the audience understand the need to be careful about the problem and adopt a healthy regime.
Health Mela to Propogate Healthy Eating and Life Style
December 21, 2019
Health Mela was conducted for the students of classes 6 to 10 on December 21, 2019. Dr. Shirish Shrivastava, professor at Ashtang Ayurvedic Mahavidyalaya, visited the Mela as the chief guest and interacted with the students. The students calculated the BMI (Body Mass Index) of the visitors, prepared various healthy recipes as well as involved the guests and the visitors in different mental games enhancing their mental abilities and coordination. They propagated the idea of healthy food combinations and emphasized on wrong ways of eating through a power point presentation. They also prepared charts on factual contents of health. They connected the issue of health to the quality of water and water conservation by displaying a film on conserving water. RAP on water conservation prepared by the students helped them to spread awareness about physical, mental and emotional health as well as in propagating the message of 'Healthy Lifestyle'.
Stamina Check Activities
August – September 2019
The strength and energy needed to exert oneself for an extended period of time is considered to be one of the several fitness components used to evaluate health and fitness levels. Physical stamina of students of classes VI to X was checked which included physical activities like skipping as well as climbing up and down the staircase of the sports pavilion. Physical stamina levels are increased through such physical activities which is the key component leading to healthy life.
Swacchta Fortnight, Initiative by CBSE
September 17, 2019 – October 2, 2019
'Swacchta Fortnight', an initiative by CBSE to celebrate Swachh Bharat Mission of Prime Minister Mr. Narendra Modi was carried out by the club during the month of September – October 2019. Class 6 students made posters on cleanliness to sustain awareness, adaptability about the good health and connecting the same to cleanliness. Class 7 students conducted activities on taking proper care of hygiene. Class 8 students participated in a mime activity on proper washing of hands, trimming nails and using a sanitizer. Students developed interest to create a clean the environment and understand its worth for health.
Programme on Personal Health and Hygiene
September 21, 2019
To sensitize the students of classes I & II about health and hygiene, a programme was organized for students of classes 3 to 5 on September 12, 2019 through an inspirational skit, mesmerizing puppet show and melodic songs. An activity named 'Swasthya Rail' was conducted for the students of classes I & II on September 21, 2019, wherein the hygiene of the students was checked.
Meditation Session
September 17, 2019
'Meditation is extreme form of concentration. It results in a harmony between body and soul which finally leads to mental serenity in every task you perform.' Keeping this in mind, a meditation session was organized on for students of class VIII of the school on September 17, 2019. The various stages of meditation were taught by Mr. Vinay Sharma, Physics faculty of the school.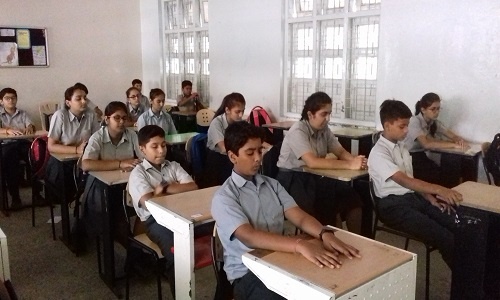 World Oral Health Day Observed
September 12, 2019
World Oral Health Day was observed in the school by conducting special assembly for students of class VI to X, briefing session on Oral Health Care, meditation event and interactive session by Dietician Dr. (Mrs.) Indubala Chaudhary from Choithram Hospital & Research Centre. In the special assembly, students of class VI E conveyed the importance of oral hygiene enacting as tooth and throwing light on tooth decay, causes for the same, care and regular checkup. Dr. (Mrs.) Chaudhary informed everyone about the role of proper diet in keeping oneself healthy and disease free. The power point presentation made the students develop interest for fitness and healthy diet. Mr. Vinay Sharma, Senior faculty Science department briefed the students about meditation and its benefits as well as made them meditate.
Making of Health Card
August 2019
Students of class VI to VIII prepared Health Cards focusing on their age, height, weight, BMI and blood group in the month of August 2019. Questionnaires related to good health habits and routine were given for example whether the students exercised daily, whether their diet contained daily serving of raw fruits.
Utility of First Aid Box
August 14, 2019
Students of classes VI, VII and VIII made First Aid Boxes and later presented a skit based on how one can be prepared to give primary treatment using the First Aid Box. This would ensure rendering of immediate help before going to a doctor. The skit turned out to be an impressive tool to convey the message profoundly.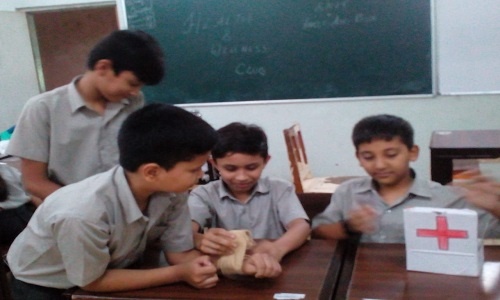 'My Certificate' Activity
July 29, 2019
To share a positive feedback of every one and to create positive feelings for each other, 'My Certificate' activity was conducted for the students of classes VI, VII and VIII which included writing positive points about others. This unique way of identifying positivity in others would help students in developing a feel good attitude towards life and ensure healthy well-being.
Collage Making Event Conducted on Doctor's Day
July 23 & 24, 2019
Collage Making Event was conducted for the students of classes VI and VII on July 23 & 24, 2019 to create awareness amongst the students about the icons of medical field. The students made collage on the ancient mentors and icons from the field of medicine and healthcare on the occasion of Doctor's Day. Students displayed their creativity on paper to make attractive collages.
Poster Making Event to Create Awareness
July 13, 2019
Poster Making Event on the topic 'Drug Abuse' was conducted for students of classes IX and X to make them aware of negative aspects of drug usage. Students showed sensitivity towards drug abuse. Another group of students prepared posters on 'Healthy Mind and Healthy Body'. The posters were later displayed for other students to view and ponder over them.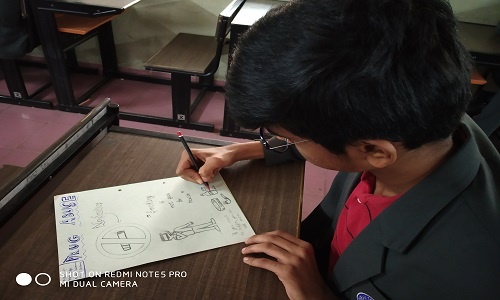 Talks by Doctors
July 1, 2019
'Health is hearty, health is harmony, health is happiness.' Doctors are care givers and hope bearers. On the occasion of Doctors' Day on July 1, 2019, parents of classes I and II from medical profession were invited to grace the occasion. The parents shared with the children how to maintain a healthy and disciplined lifestyle. They explained them how to maintain good health by narrating stories, showing pictures, asking questions and through experiments.