Session on 'Psychology of Colours'
June 5, 2020
The first session focusing on 'Psychology of Colours to Transform our Life' was conducted by Ms. Nidhi Jain, Head of Visual Arts Department. Colours reflect one's personality and define the character trait of a person. She explained four colour personality types – red, yellow, green, blue and elaborately discussed and described the characteristics of every colour with the market brands, social sites and temperament of a person. She also talked about the blending of colours and unhealthy emotions. The session also witnessed the scientific and spiritual views of colours put forth by other teachers. The queries pertaining to the psychology of colours were well dealt by her.
The second session was conducted by School Principal Mr. Rajesh Awasthi on the schedule of orientation for parents and the schedule for reopening of online school from Montessori to class XII. He also discussed the role and responsibility of the stakeholders along with the assessment, assignment, resource material in online and offline classes. The teachers were informed about the Google Classroom, new official email address and the feedback system for the parents. To lend the technical support to the parents for communication with the teachers, computer department was assigned the responsibility. He suggested few measures to deal with the pitfalls, criticisms cropping up due to situational issues during online classes. He emphasized to ensure effective communication with the parents and to focus on the qualitative content for the smooth transaction.
Sessions on Synchronization of Mind, Body and Spirit
June 4, 2020
Mr. Vinay Sharma, Physics teacher of Senior School conducted a session on 'Meditation, Yoga and Pranayam' to develop a connection between mind and body which in turn leads to a peaceful and stable life. He explained the importance of all three practices and their effects on mind and body. He also demonstrated the exercises 'anulom-vilom' and 'kapalbhati' along with the technique and the required time period. The demonstration was followed by the practice session of both the exercises by the teachers. The queries related to breathing techniques were clarified by him.
The second session by Principal Mr. Rajesh Awasthi witnessed the discussion on synchronization of mind, body and spirit. Citing examples from Mahabharata, he distinctly defined the thought process in terms of Science, Philosophy and Mythology. To understand the teaching learning process, one needs to train brain by strengthening neuropathways. Connecting to neuropathways, he referred to Bloom's Taxonomy, PBL, Vision Statement of school and many more. One needs to identify his weaknesses, share knowledge to be productive and enhance abilities to become a better person. The session ended on a positive note of self-awareness and self-realisation.
Who Kidnapped Excellence? Session Taken by Head of English Department
June 3, 2020
Ms. Chitralekha Kulkarni, Head of English Department conducted the session based on the book 'Who Kidnapped Excellence?' by Harry Paul, John Britt and Ed Jent. She briefed all the teachers about the characters of the book stating two important questions for everyone to ponder about – What stops us from giving our best? What stops us from being our best?
Contrasting and comparing the five core team members or qualities of Excellence with the team members or qualities of Average, she step by step explained the importance and the role of every member of the team. The presentation was thorough, clear and actionable. The device of Personification for Excellence and Average added weight and relevance to the story as these kinds of characters exist in the society. The unskilled rules and the skilled ones suffer due to the callous attitude of the top authorities. The realization dawns in when the company gets a major setback because of these unskilled and poser people. The enriching session ended with a question answer session as the questions are the most effective method of eliciting knowledge.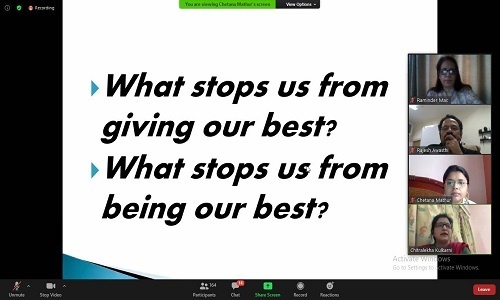 What is the New Normal? Session by School Principal Mr. Rajesh Awasthi
June 2, 2020
The session commenced with the discussion on the role of a teacher in context with the psychological side of the pandemic. With the help of a power point presentation, School Principal Mr. Rajesh Awasthi explained at length the 'New Normal' addressing the concerns and the problems during the pandemic period. He stressed on identification of the emotional and academic needs of the students and consequently developing the connectedness with the students. To strengthen relationships and well-being of the students, he suggested conducting activities like asking students about tough moment and hopeful moment, new learning during lockdown etc. Further elaborating the role of a teacher as a facilitator, he urged to create readiness for learning by fostering sense of connectedness, sense of safety and encouraging sense of hope in students. As teachers are the best predictors, the way they are going to model will be followed by the students. So teachers should work with mindfulness to overcome various issues pertaining to different situations. The session ended with clarification of queries put forward by some teachers.
New Session 2020-2021 Begins for Teachers
June 1, 2020
The new session 2020-2021 commenced with the welcoming of the entire staff by Principal Mr Rajesh Awasthi on the virtual Zoom platform due to COVID-19 followed by the schedule for nine days. On an inspiring note, the Principal appreciated the efforts of the teachers for the smooth conduction of online classes of X, XI & XII for two months. As there is uncertainty regarding reopening of schools due to COVID-19, he discussed about the challenges teachers will have to face during online teaching and urged the teachers to equip themselves mentally for the challenges. The online time table would soon be shared with the teachers. He also appreciated the online attendance of students of classes X, XI & XII and parents on online PTM.
As the role of the teacher is very important and calls for accountability and commitment towards teaching learning process, the teacher should act as a facilitator for students on online mode to create independent learners so as to reach the top level of the Bloom's Taxonomy. The Principal also informed that the school is going to have G-Suite platform of Google for teaching learning process and for the entire communication with parents, students and teachers. He suggested to send the resource material to the students two days in advance and to prepare audio/video /ppt with explanation addressing the learning of the students. To apprise the parents about the online classes, the introductory online PTM and Orientation programme for junior school parents would be conducted in a short period of time. He also informed about the Art Integration, AI and ICL to be incorporated into the syllabus as instructed by CBSE in the coming session. The session also witnessed the discussion on the planning of including school club activities, parents' email in Google classroom and Business version of Whatsapp.
Thereafter the teachers had departmental meetings with their Department Heads to continue their planning for the forthcoming session.
'UNBOX TINKERING – Atal Tinkering Lab Teachers' Training Programme
December 14, 2019
A training programme for ATL teachers under the aegis of AIM, NITI AYOG and with collaboration of VASCSC was organised at Choithram School Manik Bagh, Indore from December 11 to 14, 2019. It was attended by 50 teachers of various private and government schools. The resource persons were Mr. Sudhir Kumar Sharma (Project officer), Harsh Bhatt (Programme officer Scientist 'B'), Mohit Ahuja (Innovation Lab & Fablab incharge) from Vikram A Sarabhai Community Science Centre, Ahmedabad.
The focus was on awareness of philosophy of ATL and latest technology tools. The training programme included a series of discussions and hands on sessions which allow interactive and open learning, and exchange of new ideas.
On day one, 'Introduction to ATL program, Ideation activity and Design Thinking Activity' was conducted in which teachers designed models with innovative ideas for solving various problems identified by them in their regions. Discussion on ATL safety and ATL calendar was also conducted. Day two started with a recap of previous day and was continued with introduction to algorithms, flowcharts and programming methods. Sensors and actuators were introduced. Operating system and hardware of Arduino was introduced using which teachers designed programs for LED blinking using braid board and circuits. Working of 3D printer was taught and 3D modelling software's like Sketchup and Cura were introduced. Teachers designed 3D models. Various mechanical power tools were introduced with their usage.
Day three started with teachers discussing the problems they face while working with ATL and solutions were provided by mentors. Attendees were made to learn Raspberry Pi basics followed by discussion on hardware and software compatibility. Teachers were mentored for basic implementation of Raspberry Pi. Day four witnessed designing and showcasing the prototype for Hackathon using concepts taught on previous three days. ATL projects designed by students were showcased.
The four day training programme proved beneficial and enhanced the competencies of ATL lab teachers.
Workshop to Make Curriculum of Hindi Language More Interesting
December 7, 2019
Ms. Meeta Pandit , Ms. Mithlesh Shukla of Junior School along with Ms. Shilpa Khargonkar and Ms. Priyanka Shrivastava of Senior School attended a workshop at Sayaji Hotel on December 7, 2019 organised by Madhuban Publishers to make the curriculum of Hindi language more interesting. The resource person Dr. Manju Sharma, a national award recipient apprised the participants with innovative techniques to enhance Hindi language through audio-visual means and group discussion. She focused on all the language skills i.e. Reading, Writing, Speaking and Listening. Vocabulary Enrichment through writing skills i.e. Dialogue Writing, Picture Composition and Paragraph Writing was dealt in an exceptional manner by the resource person.
Capacity Building Workshop on Artificial Intelligence (CBSE)
December 6, 2019
Mrs. Madhurima Puranik (HOD Computer Science) and Mrs. Priyanka Narela, faculty Computer Science attended Capacity Building Workshop on Artificial Intelligence organized by CBSE and Intel at Choithram School, North Campus from December 3 to 5, 2019.
Day one was a session of awareness on Artificial Intelligence which started with the Kahoot Quiz and demonstration of two games for AI domains – Mystery Animal and Emoji Scavenger Hunt as well as Rock Paper and Scissor. Letter writing to future self and dream floor plans were designed. UN Sustainable Development Goals were discussed and a board game was played by designing tokens and dice.
Day two covered the AI Project cycle pertaining to research on the given theme and designing a future job advertisement. A balloon debate was organized on AI applications and AI Ethics.
Day three covered designing of system maps using loopy and designing graphs using Sketchy software. Different modeling techniques were done with rule based approach and learning based approach. Decision Trees were designed. Neural networks and hidden layer concept was explained using a human chain game.
Capacity Building Workshop For Teachers Teaching Mathematics
August 7, 2019
A Capacity Building Workshop was organised for class X teachers teaching Mathematics on August 6 and August 7, 2019 at Prestige Public School, Indore which was attended by Ms. AbedaRaotiwala, Math teacher of the school. Around 72 teachers in and around the city participated in the workshop. The workshop was structured into 7 learning sessions and conducted by the resource persons Mr. Vijay Malviya and Ms. Seema Dubey.
In the first session, Ms. Seema Dubey discussed the skills enhanced by teaching Math. The skills like logical thinking, estimation, problem solving, arithmetic calculation, creativity, spatial thinking were elaborately explained by the expert. The second session by Mr. Vijay Malviya was on Constructivism Theory about Learning. To make students learn the concept, an activity was conducted for the participants in groups and each group was named on the topics of Math like mensuration, algebraic, number system etc. Each group performed the activity based on the topic given.
The third session by Ms. Seema Dubey focused on the Planning of Objectives for Lesson Plan. The speaker guided to plan the objectives on the basis of SMART i.e. S-Specific, M-Measurable, A-Attainable, R-Realistic, T-Time bound and suggested to include Bloom's Taxonomy in the lesson plan. The importance of writing learning objectives, aligning objectives to assessment techniques and standards along with developing higher order thinking skills were discussed by the expert.
In the fourth session, Mr Vijay Malviya conducted a role play in groups to explain Gender Sensitivity. To gain hands-on experience, the resource person Ms. Seema Dubey conducted an activity like paper folding, model making for the participants in the fifth session. Though Math is the king of all subjects yet students have phobia for the same. In the sixth session, Ms. Seema Dubey focused on Challenge areas in Mathematics and Common Areas. The expert guided on the common errors committed by the students.
In the seventh session, Mr. Vijay Malviya enlightened on Teaching Diverse Learners in which he explained the theory of multiple intelligence, ways of getting feedback of learning-diagnostic test, vertical learning, cooperative learning and concept of mapping etc. Session eight by Mr. Vijay Malviya was based on the Assessment pattern of exam. The participants and the expert discussed the introduction of standard and basic Math level, blue prints and marks weightage for each unit.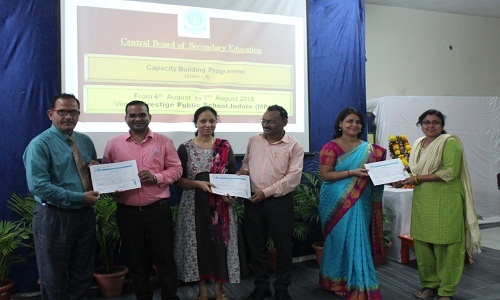 Capacity Building Programme on Life Skills
August 5, 2019
Mrs. Anshu Chopra, HOD, Science Department of Senior School and Mrs.Kusum Wadhwa, English teacher of Junior School attended a workshop organized by CBSE, Ajmer on 'Capacity Building Programme on Life Skills' on August5,2019 at Vidya sagar School. The workshop aimed to hone the life skills teaching amongst the teachers. The resource persons Dr.D. C. Sharma, Principal, Vidyasagar School and Mr.Aashish Tiwari, Principal, Podar International School enlightened the participants about various ways and techniques of developing and enhancing life skills among students across all age groups. The teachers were guided to include different life skills like empathy, problem solving, critical thinking, creative thinking, interpersonal relationships, self-awareness, managing stress and emotions, coping with stress through various activities effectively. The discussion adequately had the tone set for a healthy interaction of inputs and views from the teachers.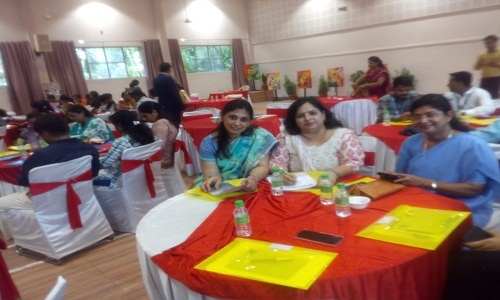 Workshop on Innovative Pedagogy with Active Learning – English XII
August 2 and 3, 2019
A workshop for English teachers teaching class XII organized by COE Ajmer, was conducted at Choithram School North Campus, Nipania on August 2 and 3, 2019. The resource persons were Dr. Shampa Das, Principal, Ekayana Public School, Indore and Ms. Krishna Niyogi from Jabalpur. The two day workshop was attended by Ms. Chitralekha Kulkarni, HOD, English Department. The focus was on Active and Experiential Learning. Various teaching learning techniques and pedagogies were used to make the attendees aware of the right way of teaching the language skills – Listening, Reading, Speaking and Writing. In groups, the teachers wrote letters, articles, framed comprehension questions according to Bloom's Taxonomy, designed posters, drafted invitations and classifieds, and discussed debatable topics. The content was then exchanged and assessed by the other group, sharing critical appreciation of the same. This gave the teachers an insight into what all points are to be kept in mind while evaluating an answer, all the same, what all points need to be told to the students to make them learn and score better.
Teaching Literature was taken up on day two with some interesting warm up activities. The handouts had crossword puzzles, rearranging the story in sequence, fill ups etc. The best part was the idea that one must explore the settings in which the story or poem had been written. That highlights the issues which were prevalent in those times and help children understand better. All the advertisements that were popular in the era when the poem 'Aunt Jennifer's Tigers' was written, showed male dominance. Showing those ads before teaching the poem would surely help in 'indepth' study of the same. New marking scheme and different ways of conducting assessment of speaking and listening skills were also discussed. Though all the skills and activities were already known to the teachers, the workshop refreshed the teaching learning process.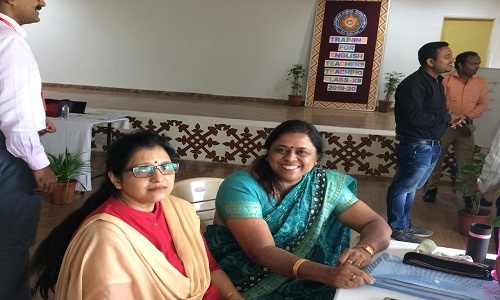 'Knowledge Sharing Meet' for Teachers Teaching Accountancy
July 28, 2019
Sultan Chand & Sons, Delhi organised a 'Knowledge Sharing Meet' at Columbia Convent School, Indore on July 28, 2019.The resource persons Dr. G.S Grewal and Mr. R.K. Khosla structured the work shop into two sessions. Mr. VipinWagh and Ms. ShaliniSarafof Commerce department attended the workshop. After a brief introduction, the resource persons discussed and explained the following topics with the help of a power point presentation:
• Changes in the question paper design for 2019-2020 in Accountancy ( classes XI &XII)
• Cash Flow Statement- Treatment of proposed dividend.
• Not for Profit Organizations.
• Writing off Discount on issue of debentures
• Goodwill treatment
The experts also discussed MCQ's and Accountancy projects for class XII with various examples. The session helped in motivating and guiding the teachers to hone their professional excellence.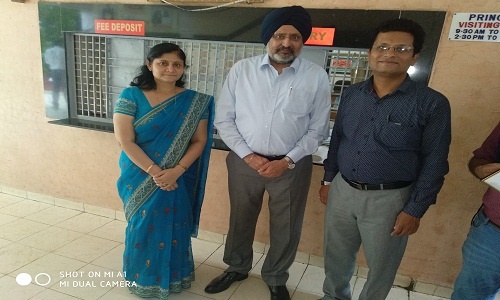 Session on 'Mysticism and Spirituality' by Mrs. Reena Khurana, Principal, Golden International School
June 20, 2019
Mrs. Reena Khurana, Principal, Golden International School, Indore conducted an awakening session on 'Mysticism and Spirituality' for all staff members on June 20, 2019. The session commenced with the mythological references of 'yagna', 'devas', 'asuras', 'siddhas', 'yogis' followed by the 16 levels of 'tapasya.' The concept of kindling fire inside and outside by 'devas' and 'asuras' was well explained by her. To reach the highest level, various ways of doing 'tapasya' was explained in detail – Raaj yog, Kriya yog, Herbs, Tantric, Shaktipath, Mantra and Sacrifice. Mrs. Khurana also quoted instances from the lives of Ramkrishna Paramhansa and Swami Vivekanand to explain spirituality. The relation between Science and Spirituality was explained with reference to the theories of the great scientists. To handle students in school, she elaborated four major mind parts, viz., Intellect, Ego, Manas and Chitta and to understand these mind parts, one has to transform oneself in different ways. Man has an unlimited power inside but the need is to awaken that power with awareness leading to discovery and finally to creation. The enlightening session ended with the clarification of queries related to spiritual existence as 'We all are spiritual beings having a human experience.'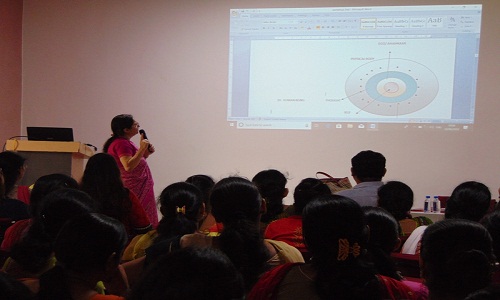 Session on 'Discipline and Behavioural Issues of Students' by CCA Outdoor Teachers
June 19, 2019
Mr. Devendra Singh Raghuvanshi; HOD, Outdoor CCA Department along with his department faculty Mr. Durgesh Yadav and Ms. Neeta Pathak shared their observations related to discipline, behaviour and medical emergencies on ground and in the classroom. The teachers shared their experiences during Athletic Meet, Farewell, Teachers' Day and other cultural events. The problems and solutions related to self-discipline, respect and counselling were dealt at length. They stressed on to have a collective effort in dealing with the discipline issues in school.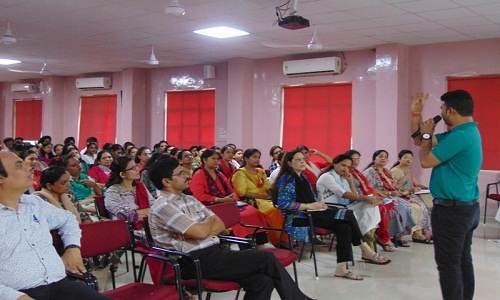 Session on 'Discipline' by Ms. Tanvi Kekre of Montessori Department
June 18, 2019
Ms. Tanvi Kekre of Montessori Department conducted a session on 'Discipline' for all staff members on June 18, 2019. The interactive session commenced with the differentiation between symptom and disease followed by identifying various ways to treat symptoms of discipline and avoid turning it into a disease. The speaker compared the ancient education (Gurukul system) with the present education system and shared a few activities to channelize the physical energy of the students. The emotional imbalance and behavioural problems along with the solutions were discussed in the session. The concept of 'Dream Classroom' was well expounded by her.
Mock Drill – Fire Safety Session For Teachers, Drivers and Conductors of the School
June 17, 2019
An informative fire awareness session was conducted by Mr. Kanchan Darkunde, fire fighter from Safety Enterprises, Indore on June 17, 2019 for teachers, drivers and conductors of the school. Defining fire as the combination of oxygen, heat and all sorts of combustible material, the resource person explained A, B, C types of fire extinguishers and their operation. He also suggested do's and don'ts while using LPG, electric circuits and vehicles. To ensure safety and security of the students, various preventive measures like emergency exit, assembly points etc. were shared by the resource person to be followed during the fire breakout scenario. The mock drill of fire alarm, foam extinguishers and hydrant extinguishers was well explained by the fire fighter inviting teachers, drivers and conductors to demonstrate the same.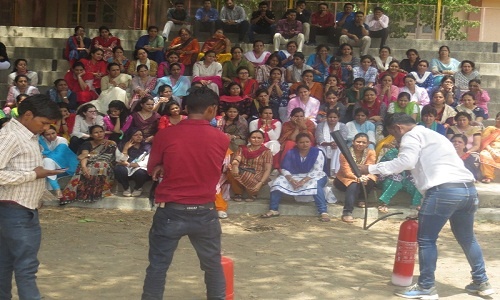 Session on 'Effect of Meditation in Stressful Life' by Mr. Vinay Sharma of Senior School
June 17, 2019
Mr. Vinay Sharma, Physics teacher of Senior School conducted a session on 'Effect of Meditation in Stressful Life' focusing on the causes and cure of stress. To live a stress-free life, the speaker suggested ignoring thoughts and establishing a mind-body connection. The session covered two types of meditation techniques viz. 'Active' and 'Passive' along with ways to achieve a calm and stable state. With the help of a video, the four stages of 'Kundalini Meditation' (which is very useful for working ladies) were explained by Mr. Vinay. The last leg of the session witnessed demonstration of 'Gibberish meditation technique' which can assist people to throw out all garbage from their mind.
Session on 'Discipline and Student-Teacher Behaviour' by School Vice Principal
June 11, 2019
Vice Principal Mr. S. K. Mishra conducted a session on certain issues pertaining to discipline and behaviour of students and teachers for staff members of Senior School on June 11, 2019. The session witnessed in-depth discussions on punishment, defaulters, use of language, discipline on ground and in class and PTM etc. Teachers shared their problems and suggested remedies to solve the issues.
Watching the Movie 'Rough Book'
June 11, 2019
All staff members watched the movie 'Rough Book' on June 11, 2019. The story revolves around the present day education system in India with the protagonist Santoshi Kumari, a Physics teacher rebelling against the system. She tackles the system to set her own terms for her students. After watching the movie, School Principal Mr. Rajesh Awasthi encouraged teachers to share their observations by asking thought-provoking questions. Various issues that the movie raised were discussed by the teachers. At the end, he asked teachers to relate different instances of transactional analysis; the three ego states – parent, teacher and child from the movie.
Session on Behavioural Issues of Students by School Counsellors
June 10, 2019
School Counsellors Ms. Abhilasha Purushothaman and Ms. Surbhi Shastri conducted a session with staff members of Senior School on June 10, 2019 pertaining to the problems of adolescents. Acting as facilitators, they encouraged teachers of grade IX to XII to share various behavioural problems of students of these classes with each other for common action. Teachers discussed what they deemed was 'acceptable' and what was 'not acceptable' student behaviour and urged everyone to take action at the particular instant rather than wait for someone else to intervene.
Session on 'Technology' by Ms. Madhurima Puranik of Senior School
June 8, 2019
Ms. Madhurima Puranik, HOD Computer Department conducted a session on 'Technology' for staff members of the Senior School on June 8, 2019. She explained the formatting of question paper, MS Excel sheet and google form. She clarified the queries of the teachers related to technical glitches faced by them.
Session on 'Tongue Management' by Brahmakumari Neela Didi
June 8, 2019
Brahmakumari Neela Didi in her session on 'Tongue Management' for all staff members on June 8, 2019 enumerated that if we are able to control our tongue we can control our life. Citing inspirational stories, she made everyone understand that a controlled tongue is a positive power. To manage our tongue, Didi suggested four basic paths viz. speak less, speak softly, speak in a sweet tone and speak appropriately. At the end, she advised for meditation exercise to connect with God as He is omni present to solve our problems.
Session on 'Classroom Management' by Mr. Vipin Wagh of Senior School
June 7, 2019
Mr. Vipin Wagh, Head of Commerce Department and part of the School Discipline Committee commenced the session on 'Classroom Management' for teachers of the Senior School on June 7, 2019 by showing a video. He questioned the teachers about their observations after seeing the video and what they felt the teacher in the video should have done to improve her classroom management. He set the ball rolling for the teachers to discuss openly the problems they faced in their respective classes. Through an interactive session, he explained the different strategies for better classroom control. Different kinds of behaviour-attention seeking, power seeking, off task and misbehaviour were also discussed.
Session on 'Integrating UNSDG Within the Curriculum' by Ms. Raminder Mac of Senior School
June 7, 2019
Ms. Raminder Mac , Dean – International Affairs conducted the session on 'Integrating UNSDG Within the Curriculum' for all staff members on June 7, 2019. The session began with the objective of introducing these goals by the UN followed by the need of incorporating these in the school curriculum. To integrate UNSDG within the curriculum, Ms. Mac suggested taking one goal and targeting the sub-goals with extensive research along with activities showing solutions, challenges and action. Around nine UN goals were explained at length covering different subjects. The activities like role play, street play, talk shows, panel discussion, letter writing, PPT, poems, campaigns, rallies etc. were suggested to achieve the target of UNSDG.
Session on 'Communication Skills' by Ms. Surya Nair of Junior School
June 6, 2019
Ms. Surya Nair of Junior School conducted the session on 'Communication Skills' for all the staff members on June 6, 2019. She commenced the session with pronunciation of common words pronounced wrongly followed by certain exercises like correcting errors. To improve vocabulary, she suggested reading books and magazines as well as watching cartoons, movies with subtitles, TV Shows and interviews. She emphasized on improving the accent and maintaining a diary to record happenings throughout the day. To improve speaking skills, she demonstrated two activities viz. Just a Minute (JAM Technique) wherein the teachers were called to speak continuously for 2 minutes on the topic given. The second activity pertaining to 'Dictionary navigation' was conducted in which teachers were called in pairs to look up for the word in dictionary addressed by her in a sentence. Various topics like punctuation, words and idioms were discussed along with the exercises based on silent letters and anagrams.
Session on 'Teacher Effectiveness' by School Principal
June 4, 2019
In his session on 'Teacher Effectiveness' on June 4, 2019 for all staff members, School Principal Mr. Rajesh Awasthi enumerated why a teacher is regarded as a 'knowledge giver' and the two dimensions of a teacher's personality viz. subjective and behavioural. The subjective domain comprises of the teaching style, teacher-student interactions, teaching outcomes while behavioural domain comprises teacher personality, behaviour, competencies, values and abilities. Subjective domain can easily be developed while Behavioural domain is intrinsic. Speaking on 'Purposeful Communication', Mr. Awasthi discussed on listening to learn, expressing to explore, establishing empathy and demonstrating credibility. He also stressed to enhance the quality of communication. The contents of 'Inspired Thinking' comprising of reasoning, problem solving, pattern recognition and decision making were also discussed. Quoting happiness as instrumental and cheerfulness as terminal, he discussed on 'Happy Self.' The key areas comprising of personal development, self-management, risk taking, courage, integrity, compassion, team work and many more were dealt at length. Under the 'Work Talent' area, he guided teachers to understand the profession with professional expertise thereby bringing unique and valued skills to job.
Session on SOLO Taxonomy by School Principal Mr. Rajesh Awasthi
June 3, 2019
School Principal Mr. Rajesh Awasthi commenced the session on June 3, 2019 for all staff members with discussion on Bloom's Taxonomy wherein the various levels of taxonomy were discussed. This was followed by the introduction of John Gibbs' SOLO Taxonomy (Structure of Observed Learning Outcomes) along with comparison of Bloom's and Solo as both aim to make students independent learners. Mr. Awasthi dealt with the five levels of SOLO Taxonomy beginning with 'Prestructural' followed by 'Unistructural', 'Multistructural', 'Relational' and ending with 'Extended Abstract'. Student definition and icons pertaining to these Solo stages were well explained with the help of examples. Highlighting SOLO Taxonomy as being student-centric, he elucidated how this taxonomy brings out the difference between surface and deep understanding, helping students understand where they are on that spectrum and what they need to do to progress. He also suggested that teachers should include the levels of this taxonomy while redesigning the lesson plans.
Enhancing Leadership Skills – Leadership Workshop For Incharges and HODs by School Principal Mr. Rajesh Awasthi
May 28 to May 31, 2019.
Commitment and Accountability
Mr. Awasthi stressed on the need to create a strong support system to bring in Commitment and Accountability in the teachers. The biggest enemy of commitment is fear. Leaders ought to follow a 'No Hierarchy- Round Table' approach and establish a rapport with the team. One should not be stingy in praising the efforts put in by anyone.
The Change Process
Discussion on John Kotter's book 'Our Iceberg is Melting' highlighting the steps required to bring in a change followed by brainstorming sessions helped everyone identify himself/ herself with the different characters in the fable in different situations. The task of a leader is to identify the NoNo first and set him/her right (never avoid NoNo), and that would help in the progress of the change process. The school was taken up as a metaphor for 'Iceberg', and the cracks and caves for minor and major issues that the school is facing were identified. The issues related to four major areas viz. students, teachers, infrastructure and policies were listed out in groups.
Transaction Analysis
Mr. Awasthi advised the leaders to analyse the way they communicate. The five Ws and one H, the importance of expression, the three ego states were discussed. Examples were shared how a person behaved when he/she was in a particular ego state. The need to be in Adult mode while resolving a conflict is a must. The 'Barriers in Communication' and the 'Thinking Errors' were discussed, which one should be aware of, and avoid. One should be Assertive and work towards 'Organizational Assertiveness'.
Enhancing Team Building
The leaders were divided into four teams and interesting tasks were given including games which required involvement from every member of the team. It was followed by discussion on the strategy, planning and execution of the same which could have given successful results. Mr. Awasthi also explained the importance of SWOT Analysis and Johari window, followed by a 'Feedback Game' where everyone had to give positive feedback to everyone. After the game was the sharing of blind spots of every member's personality.
National Seminar on ICT Integration in Education and Learning Analytics
March 18, 2019
To encourage the mentors, scholars and practitioners to evolve strategies for the ICT-pedagogy integration as well as to analyse the learning progressions, a three day National Seminar was organised at RIE, Bhopal from March 15, 2019 to March 17, 2019. Ms. Navneet Bhatia of Junior School attended seminar. The seminar was structured into different sessions. The first day session began with the introducion of Chief Guest Prof. H. K. Senapaty, Director NCERT, New Delhi by Prof. N. Pradhan, Principal, RIE, Bhopal followed by brief about the importance of ICT. The eminent educationists from renowned institutions and universities shared their views on different learning patterns in the students.
Prof I.B. Chughtai dealt with the three levels of ICT integration involving Emerging to Applying, Applying to Infusing and Infusing to Transforming. Prof H.K. Senapaty highlighted the purpose of e-learning to identify the learning patterns in the students. Speaking on 'Pedagogy Dominates Technology', the speaker encouraged the teachers to shift from content mastery to competency mastery. He stressed on enhancing life skills to make children independent learners using their potential. For this, the teachers and educators need to make changes in TLP. Prof. D. N. Sansanwal addressed on ICT Integration in Education and explained at length the process of integrating ICT in admissions, teaching processes involving reasoning and thinking, diagnostics tests, remedial teaching, internal assessment and psychological testing. The resource person elaborated ICT Tutoring to simplify the concepts in Math, Physics, Chemistry, Accountancy and English. He encouraged developing Industrial Material – e content using different subjects.
The second day witnessed paper presentations by research scholars from different universities. The presentations included the following topics – Effectiveness of ICT Integration in Science Education at Secondary Level, Effectiveness of Multimedia Approach on Achievement in Science at Upper Primary Level, Use of ICT in Teaching Mathematics, Effectiveness of Mathematics Teaching Through Technology, Cloud Classroom Environment, Challenges in Teaching Science in Schools, Integrating ICT in Science Teaching and Learning, Teaching Biology in Higher Classes using ICT,Flip Classrooms etc. The e-resources like Geogebra, Logo and Robo Compass etc. were shared by the experts. To enhance learning in Science, Mathematics, Physics, Astrology and Zoology, the experts informed about the utility of PhET –Physics education Technology. PINDICS a self-assessment learning tool for teachers consisting of performance standards (PS), specific standards and performance indicators was also explained by the speakers.
Math Skill Meet
January 12, 2019
Ms. Raji Pillai and Ms. Jaya Makhija of Mathematics Department of Junior School attended Math Skill Meet organised by Macmillan Education at Hotel Sayaji on January 12, 2019. The meet was based on Singapore Approach to Mathematics Teaching which incorporates the Mastery Method allowing children to develop mathematical understanding without resorting to rote learning and solve non- routine Math problems without memorising procedures.
The resource person Mr. Syed F. Sattar, an educator with more than a decade of close involvement in school education focused on Jerome Bruner's Concrete-Pictorial-Abstract (CPA) approach. In the concrete step students engage in hands on learning experiences using concrete objects such as chips, dice or paper clips which is followed by drawing pictorial representations of mathematical problems and abstract way using numbers and symbols. Mr. Syed explained how Jodo cubes can be used to explain various Math topics like area and perimeter. The concept of percentage was explained through an activity using rectangular strips. Questions based on reasoning using pictorial representation were also discussed. The session concluded with the briefing of digital features of CPA Math – A Singapore Approach.
Workshop on English Language Teaching (ELT)
January 05, 2019
Orient Blackswan Publication organised a workshop on English Language Teaching (ELT) at Advanced Academy, Indore on January 5, 2019 which was attended by Ms. Santosh Joshi, Ms. Parul Agrawal, Ms. Ruchi Chaturvedi and Ms. Misha Sachdev of the English Department. The resource person Dr. Deepesh Chandrasekharan, Executive Director, CLIL, Udupi, Karnataka emphasized to focus on fluency rather than accuracy and guided on teaching of punctuation and euphemism. Certain listening and spell check related activities were conducted to emphasise on listening skills and use of correct spelling.
Global Teachers' Meet
December 31, 2019
Global Teachers' Meet 'MAHAKUMBH 2018' Chapter II was organized on the theme 'Happy School and Safe School' at Indore Public School on December 29 & 30, 2018. With a strong belief in the idea of creating the World of Happy Children and the World for Happy Children, the founders Dr. Rajesh Sharma, Fr. Maria Stephen and Ms. Kala Mohan invited the guest speakers from different fields to share their expertise in the field of education. Educators from various institutions across the country witnessed the event of this magnitude for two days.
DAY 1
The inaugural session was conducted by Bishop Chacko who emphasized upon imparting values as happiness in the present generation lies in listening to 'YES' and so values are of prime importance. Mr. Gurvinder Singh and Dr. D.S. Ahluwalia were felicitated with Late Shri Sadhu Singh awards for their selfless contribution in creating a well-educated society.
Mr. G. Balasubramaniam, former Director CBSE, Academics, addressed the gathering on 'Happiness' which according to him means feeling good and is born out of sorrow. He defined happiness as a path and a process and not a product. Stating cultural diversity, literacy and good governance to be the indicators of happiness index, he mentioned the key role of a teacher to bring happiness in students with self-esteem and self-acceptance. He also recommended making the school zone as 'Positive Energy Vibe Zone' where teachers should have unconditional love, selfless service to generate wealth in terms of knowledge and health.
The second session was dealt at length by Ms. Anuradha Sinha, Education Consultant and Curriculum Designer on Emotional Intelligence (E.I.) who suggested using emotions to create a happy environment. Referring to Bhagwad Gita's teachings in Goleman's book on E.I. published in 1995, the speaker cited examples to show the advantages of E.I. in building rapport with children to develop a sense of achievement and self-esteem.
In the plenary session, teachers interacted subject wise in different groups to share their teaching methodologies and strategies. The sharing of ideas helped in the enhancement in teaching learning process. Ms. Jaya Chakraborty from Queen's College presented her paper on 'Creating a Foundation of Moral Education' which dealt with the beauty of forgiveness and integrity into the classroom culture. Ms. Khushboo a aper presented on the topic 'Teacher's Engineering in the Classroom' and explained Johari's Window. Ms. Kala Mohan addressed on 'Gratification and Delayed Gratification.'
The concluding session of the first day was conducted by Padamshri Ms. Janak Palta, Director, Jimmy McGilligan, Centre for Sustainable Environmental Development wherein Ms. Palta recommended to make use of library to update knowledge and stressed on 'Think Globally and Act Locally.' The mentors were advised to teach boys too on 'Good Touch and Bad Touch.'
DAY 2
In the first session, Mr. Rajesh Awasthi, Principal, Choithram School, elaborated his views on philosophy of happiness. He emphasized to create an environment for happy learning and to provide the opportunity to students to grow on their own. Differentiating happiness and cheerfulness, he encouraged to inculcate cheerfulness among children. He further explained that teachers as a facilitator, should influence students' life and not control their life and to be happy one should be free from fear, boredom and confusion.
The second session was conducted by Dr. A. Senthil Kumaran, Chief Confluencer & Co-Founder, who addressed on 'Try to Rediscover Yourself', followed by a movie 'Mawa Cake.' A video on learning from environment was also witnessed by the educators followed by the introduction of the four mantras for happy classroom:
1. Man – We all are unique and never alone.
2. Material – Develop learning material which is worthwhile.
3. Methods – Apply strategies to settle children
4. Environment – Making learning visible with art work.
The third session witnessed the paper presentation by the following experts:
1. Ms. Inderpal Kaur, Principal, Sanskruti School, Ashok Nagar presented her paper on 'Happy school makes happy children.'
2. Ms. Jyoti Kamle, Student Psychologist, Bhopal gave presentation on 'Internet Addiction'
Ms Kala Mohan summed up the learning from the entire event and proclaimed with confidence 'I'm Proud to be a Teacher.' The informative, innovative and entertaining meet enriched the participants to create a Happy and Safe Learning Environment for the young generation.
Workshop on Teaching of Hindi Language
December 15, 2018
Madhuban Prakashan organized a Hindi workshop under the aegis of Hindi Pathyapustak and Vyakaranmala at Hotel Sayaji on December 15, 2018 which was attended by Ms. Preeti Dubey, Ms. Urmila Saroj and Ms. Aparna Chavan of Hindi Department. The resource person Dr. Mathin Ahmed, member of State Council of Educational Research and Training (SCERT), Delhi introduced new dimensions of teaching with simple techniques to develop creativity in students. Assessing the IQ of students, he explained the ways to develop all four linguistic skills – reading, writing, speaking and listening skills concisely in a very interesting manner. Dr. Ahmed also introduced simple teaching methods and interesting activities in grammar.
Workshop on English Language Teaching
December 15, 2018
Indore Sahodaya Schools Complex, Indore conducted a workshop in English language at Golden International School. The resource person Ms. Indira Subramanian focused on the factors that influence the acquisition of language. The speaker conducted activities to explain various skills of reading, writing, speaking and listening in language. The workshop was attended by Ms. Jinitha Chahande and Ms. Aarti Vishwakarma of English Department of Junior School and Senior School respectively.
Workshop on 'Interactive and Activity Based Mathematics Classroom Teaching'
November 3, 2018
Ms.Varsha Pahuja and Ms.Annie Resin of Maths department attended a workshop on 'Interactive and Activity Based Mathematics Classroom Teaching' on November 3, 2018 at ILVA school.The resource person Mr. Arun Kumar discussed the reasons and remedies to overcome the phobia of Maths in students. Beginning with the simple concept of numbers, he stressed on the importance of backward counting in Montessori classes to gain better understanding of the concept. The teaching tools like stick, coloured strips, red and black coins to explain the concept of multiplication, fractions, factors and integers were well dealt by the speaker. The interactive session clarified the queries of the participants related to certain topics and enriched them with the usage of different teaching techniques and tools.
Workshop on Early Childhood Education and Development
September 15, 2018
A workshop on 'Early Childhood Education and Development' organized at Indus World School on September 15, 2018 under the ECC programme was attended by Montessori Coordinators Ms. Sapna Bhatnagar, Ms. Kanchan Kapoor and Ms. Pooja Joshi. The inaugural session conducted by chief guest Mr. Gaurav Barar, CEO of Euro Kids Schools dealt with importance of Early Childhood Education and role of educators, challenges faced by educators while dealing with early childhood literacy, professionalization in educational institutions, childhood obesity and overuse of technology by children.
While emphasizing on the use of technology for young children, Mr. Bharat Gulia in the second session enumerated on use of technology in the classroom as well as major opportunities and concerns while using technology. Mr. MuditMehrotra's session on 'Safety and Security in Schools' threw light on how schools can work better for safety and security of children. The last session 'Creativity Through Contests' drew enthusiastic response from teachers of various schools of the city as they participated in contests related to story telling , games as well as art and craft.
National Level Workshop on 'Managing Emotions at Work' Conducted by School Principal
August 6, 2018
Emotions carry a significant value at work-place. Constructive emotions can motivate a person to work while intense emotions can hinder one's ability to think. In this context, School Principal Mr. Rajesh Awasthi conducted a two day workshop at Choithram School on August 3 and 4, 2018. The workshop was attended by 35 educators of the level of Principals, Vice Principals, HODs, Incharges, Co-ordinators, PGTs, TGTs, PRTs and Montessori teachers from various schools of the country.
Mr. Rajesh Awasthi in his interactive sessions involving real time case studies and stories from Panchatantra apprised the audience about the art of managing emotions at workplace. The difference between 'Response' and 'Reaction'; the reasoning brain and the impulsive brain was well understood by the participants. He gave the talisman 'SLOW' in case of emotional hijack, i.e. Stop, Label or recognize your emotions, Oxygenate/ breathe deeply and Wise objectives need to be pursued. Participants learnt that that negative feedback should be taken gracefully and the CARAT approach to be followed in such cases. He also outlined the ABCDE method for disputing thoughts and challenging negativity.
Principal of Sri Venkateshwar International School, New Delhi Visits ChoithramSchool
August 2, 2018
Ms. Nita Arora, Principal of Sri Venkateshwar International School, Dwarka, New Delhi visited Choithram School on August 2, 2018 to observe the different teaching approaches being followed in the school. During her meeting with Ms. Raminder Mac, Dean – International Affairs, she learnt about the global citizenship programme of the school. She apprised Ms. Pooja Joshi, Coordinator of Nursery, Ms. Kanchan Kapoor, Co-ordinator of Junior Montessori and Ms. Sapna Bhatnagar, Co-ordinator of Senior Montessori about the Montessori way of teaching followed in her school and was glad to receive inputs from the Co-ordinators about the pedagogy followed in our school for Montessori classes. She also met School Principal Mr. Rajesh Awasthi and Ms. Smita Bhargava, Primary Incharge during her visit.
The Awakened Citizen Programme for Beginners
July 31, 2018
The Ramakrishna Mission, New Delhi conducted a workshop 'Awakened Citizen Programme' from July 28 to July 31, 2018 at Brilliant Convention Centre, Indore. Ms. Manjushree Jain, Ms. RituGondal , Ms. Poonam Notani and Ms. MeghnaKaitwade of Senior School attended the workshop which aimed to inculcate value education in the children to make them enlightened citizens.
The Awakened Citizen Programme Principals' Orientation
July 14, 2018
Awakened Citizen Programme Principals' Orientation was organized by The Ramakrishna Mission, New Delhi on July 14, 2018 at Choithram School and facilitated by Ms. Sapna Sarkar. The Orientation was attended by Ms. Pallavi Sukhtankar, CCE Co-ordinator. Focusing on the importance of value based education, guest H.H. Shantatmanandji Maharaj, Ramkrishna Mission, New Delhi emphasised on the transformation of the mind-set through positive reinforcement.The facilitators dealt in detail on the two main possibilities of 'Awakened Citizen Programme' i.e. universal possibilities and unique possibilities which are at disposal of every child but need to be tapped.Principals from different schools of Indore participated in the workshop which focused on the need and importance of value based education.
MIE Expert Meet
June 30, 2018
To discuss futuristic technologies and innovative practices in education and to provide professional development opportunity, an MIE Expert workshop by Microsoft was organized on June 30, 2018 at Gems Public School.It was attended by Ms. Amita Lalwani, Ms. Ankita Sharma, Ms. Pardeep Arora and Mr. Sachin Soni of the Computer Department. The MIE Master Trainer Mr. Bibhuti Sinha briefed about the latest Microsoft tools, Microsoft website and courses, productivity tools and their integration with curriculum (OneNote, Skype in the classroom, Sway-Office 365), badges, Minecraft and Kodu. The resource person also apprised the participants on the importance of cyber security and use of social media (Yammer).A digital notebook containing useful tools and resources was also shared with the participants.
Concluding Session by School Principal
June 15, 2018
The concluding session of the ten day workshop was addressed by School Principal Mr. Rajesh Awasthi on the assessment part, designing of rubrics and subject reports along with certain issues pertaining to the code of conduct, classroom and time management including updation of class registers and diaries. Speaking on the assessment part, he emphasized the need to synchronize the assessment part to ensure learning. If any problem related to learning of concepts is there, it should be overcome in the next lesson plan. Regarding designing pointers for rubrics, he advised to make 5 or 7 pointer scale depending on the requirements using simple and short sentences. He stressed on the proper review of lesson plans when the lesson gets completed and to check teachers' learning along with the students. The collaborative approach in the teaching learning process was well covered in the session. Speaking on the behavioural issues, Mr. Awasthi guided to develop high learning attitude and follow professional ethics. He suggested to master the way of speaking as the way creates the impact rather than words. In the end, Principal wished the teachers good luck for the new academic session 2018-19.
Session on Google Forms by Head of Computer Department
June 15, 2018
The session commenced with the brief up about the procedure to log in Google forms by Ms. Madhurima Puranik, Head of Computer Department. Ms. Puranik explained Google sheets, Google docs and slides and clarified the queries of the teachers. This updation programme would help the teachers to become technosavy.
Session on Guidance and Counselling by the School Counsellors
June 14, 2018
The School Counsellors Ms. Abhilasha Purushottaman and Ms. Surbhi Shastri recapitulated the learning of the previous session.A Ted talk on 'Emotional Hygiene' by the psychologist Guy Winch was shown to the teachers. Quoting example from his life, Guy Winch urged to prioritize psychological health as injuries of failures, loneliness, and rejection severely affect one's physical health in various ways. To cure these psychological wounds, he stressed on to – Build emotional resilience and Stop emotional bleeding, Battle negative thinking, Avoid rumination and Revive self-esteem and treat self with compassion. The video on 'The Lion Whisperer- Kevin Richardson' showcased the companionship with wild creatures. The presentation disseminated the message that trust and compassion strengthens the relationship of the teacher and the student. The learning from both the videos was shared by the teachers. The counsellors equipped the teachers with different tools to manage the problems pertaining to discipline, conduct and academics. Teachers were also requested to approach the counsellors whenever they face problems with themselves or with the students. Ms. Abhilasha and Ms. Surbhi conducted a motivational activity to make everyone know their innate qualities.
Spiritual Awakening Session on 'Self Esteem' by Brahmakumari Neela Didi
June 13, 2018
A spiritual awakening session on 'Self Esteem' was conducted by Neela Didi from the spiritual organization Brahmakumaris. Didi listed the symptoms of low self-esteem and suggested remedies to overcome the problems occurring due to low self-esteem. As self-esteem depends on external appearance, imitation and public opinion, one should take responsibility of himself to correct his self-esteem. The four practices were discussed to develop high self-esteem which is required in this competitive world – Practice of living purposefully as purpose keeps us motivated, practice of self-acceptance which tells to accept yourself as you are, practice- God loves me as I am very important for God and He loves me unconditionally and lastly Practice- I am Light to enlighten everyone. The difference between self-esteem and ego was also well explained in the session. Values and qualities define self-esteem while possession, position and beauty define ego. The former is permanent while the latter is temporary. The activities based on accepting and understanding own self, reflected the seven qualities of the soul –peace, love, pure, happy, knowledge, bliss and power. The one minute activity of putting dots on the paper helped the teachers to realise their potential.
Self- Disclosure: Talk by Ex-students about their Expectations
June 12, 2018
The session witnessed the talk by Aastha Vijaywargiya and Vishwas Hablani of 2017-18 batch on 'Student Thinking and Expectations'. Vishwas presented his views on 'How to teach?' in which he suggested to begin the lesson with examples to get students interested followed by the information about the author to learn the concept easily. He also recommended encouraging questioning skills of the students and 'out of box thinking' for research work.
Aastha talked about partiality, thinking and the basic word 'Discipline.' She clarified the marks oriented and career oriented thinking and listed the ways to maintain discipline of students in school. Citing her experiences in school as a council member, she suggested the communication tool to develop friendly relations with the students and emphasized to provide logic for certain discipline issues. To face the competitive exams, she recommended including G.K, reasoning and aptitude in the syllabus in class 11 and 12.The session witnessed a fruitful question answer session between the teachers and the students. The speakers expressed their gratitude to the teachers for their educational journey.
Session on Internationalism and Intercultural Learning by Dean – International Affairs
June 11, 2018
Ms.Raminder Mac, Dean – International Affairs addressed the teachers on Internationalism and Intercultural Learning. The session commenced with the discussion on characteristics of global citizen followed by the elaborate explanation of 'What', 'Why', and 'How' of Global Citizenship. The speaker focused on knowledge, core skills, attitude and values to develop global competencies in the students. Various international projects and visits fostering intercultural learning, accreditation scheme by the British Council, School Enterprise Challenge, Tedx event etc. of the previous sessions were well covered in the session. Ms. Mac also apprised about the various international projects for the next academic session. Speaking on the integration of international dimension in the curriculum, she informed about the international projects focusing on UN Sustainable Goals to be integrated within the curriculum from Montessori to class 8. The information about British Council Online Courses was also shared in the session. The teachers were also appreciated for the completion of course. The deadline of July 31, 2018 to complete at least one course was informed to the teachers.
Session by a Naturopath
June 9, 2018
Ms. Charu Singh, a Naturopath from Divyayan Nisargopchar Kendra, Indore conducted an informative session on Healthy Lifestyle and defined health as a physical, mental, emotional and spiritual well being. She explained health on the basis of diet, stress and life style and suggested to follow the laws of nature like time, rest, work and balance. The five elements of nature viz. air, water, fire, earth and sky in context with life processes were dealt at length by the speaker. The information on digestive fire, appetite, breathing right, and importance of shooting prayers were well assimilated by the teachers. The speaker advised to take seasonal fruits and focus on food while eating rather than being glued to the mobile or television as act of eating food is meditation. The session also clarified many myths related to food habits and diet requirements conveying that harmonising with nature makes one cheerful, healthy and happy in life.
Session on Guidance and Counselling by the School Counsellors
June 8, 2018
The School Counsellors Ms. Surbhi Shastri and Ms. Abhilasha Purushottaman conducted a session on Guidance and Counselling on June 8, 2018. Ms.Shastri defined and differentiated Guidance from Counselling and distinctly explained the need of guidance and counselling to the students. Guidance helps in growth and adjustment while Counselling is the specialized service of guidance and an enabling process designed to help through learning.Certain myths related to counselling were well expounded in personal, family, educational and career areas. The signs that show the need of counselling – drop in grades, social withdrawal, isolation, extreme behaviour were well explicated by the speaker. Ms. Abhilasha listed the qualities of a Counsellor and regarded the Counsellor as a facilitator and a teacher. The activities demonstrated the trustworthiness and confidentiality of the Counsellor. The session enriched the teachers with various techniques to guide the students in becoming a self-aware person as it takes a big heart to help shape little minds.
Process of Teaching and Learning and Redesigning of Lesson Plans Elucidated by the School Principal
June 7, 2018
The new session 2018-2019 commenced with the welcoming of the new members in the Choithram family by School Principal Mr Rajesh Awasthi. The schedule of ten day workshop was informed to the teachers. Mr. Awasthi discussed the new format of the lesson plans to be prepared for both the terms with the inclusion of UN Sustainable Goals and real learning by teacher and students. Speaking on the involvement of students in the process of teaching and learning, her apprised the teachers about the action research to be taken in each subject and introduction of Psychology subject in class XI. He also encouraged for creating a healthy environment in school with coordination and collaboration, conflict management and filling communication gaps. To make students excel in academics, he suggested using the expertise of other departments. Teachers were also apprised about the updation of email address of parents and exam records.
In the second session, Principal Mr. Rajesh Awasthi focused on redesigning of lesson plans along with the behavioural and specific objectives, assessment and review in the lesson plan format. He stressed on to bridge the gaps pertaining to the designing, planning, implementation and assessment in lesson plan. He revised Bloom's Taxonomy in the process of teaching learning and guided to change the strategy for improvement after evaluation. For designing the assessment, what, why, when, who and how of the process was elaborately explained along with the assessment shift which clarified what is assessment and what to assess. The qualitative and quantitative approaches of the outcome were also discussed by him.
Orientation Programme For Leaders On 'Internal Balance'
June 6, 2018
Through another Panchtantra story, School Principal Mr. Rajesh Awasthi made the members realize that negative feedback should be taken gracefully. Opinion of others should not push one's sentiments. One should follow the CARAT approach in such cases where the first three letters CAR REPRESENT Confused, Angry and Rationalization i.e. typical reaction to criticism, and the next two letters AT represent Acknowledge the part that is true and Add your own; Take what is useful and relevant. Thus negative feedback is an excellent opportunity to improvise on oneself. He also encouraged the members to learn the ART of winning people by Appreciating them, Respecting them and Tuning in with them.
Orientation Programme For Leaders On 'Internal Balance'
June 5, 2018
School Principal Mr. Rajesh Awasthi outlined the ABCDE method for disputing thoughts and challenging negativity. He encouraged the members to view problem as a challenge and follow ABCDE, i.e.,
A – Adversity or Activating event
B – Beliefs, which can be self-limiting
C – Consequences, which are feelings and resultant actions
D – Disputing our self – limiting beliefs by recalling past successes and strengths
E – Energizing and Encouraging ourselves with effective new thoughts
He also showed PAC to check the transaction of thoughts, where P refers to behaving like a
Controlling Parent or Nurturing Parent, A is Adult- a thoughtful state of mind leading to a mature behaviour, and C is Adaptive Child behaviour who submits, or Free Child who doesn't. Best transactions take place in the Adult state of mind and one should encourage that.
Orientation Programme For Leaders On 'Internal Balance'
June 4, 2018
On day two, the leaders were told to identify themselves with various characters in the case studies and provide various alternatives as to what they would have done had they been in the same situation. School Principal Mr. Rajesh Awasthi gave the talisman 'SLOW' in case of emotional hijack, i.e. Stop, Label or recognize your emotions, Oxygenate/ breathe deeply and Wise objectives need to be pursued. One must regulate the emotions as FIGHT (entering into aggressive mode) or FLIGHT (avoiding/ moving away) both distract from goals.
Orientation Programme For Leaders On 'Internal Balance'
June 2, 2018
A four day Orientation Programme was conducted by School Principal Mr. Rajesh Awasthi for the Incharges and HODs from June 2, 2018 to June 6, 2018 focusing on managing emotions and having control over them. Through various case studies and Panchtantra stories, the difference between 'Response' and 'Reaction'; the reasoning brain and the impulsive brain was well understood by the members. Mr. Awasthi encouraged the team to enhance Personal Competence by managing oneself through Self Awareness, Self-Regulation and Motivation; and Social Competence through Empathy and Social Skills. He advised the members that one should be logical instead of emotional. When one's position, knowledge or expertise is challenged, it should be accepted with logical mind, not by impulse.
Workshop on Gender Sensitivity
April 27,2018
A workshop on 'Gender Sensitivity'was organised at Medicaps International School,Indore on April 27,2018 and witnessed the participation of 69 teachers from different schools in and around Indore. Ms. Pallavi Sukhtankar, Ms. Bharti Pandey, Ms. Sugandha Nanore, Ms. YashashriLole and Ms. Chandni Lalwani from Choithram School attended the workshop. Mr. Anurag Gupta, Principal, Vidhya Niketan School, Gwalior discussed about gender discrimination in the first session. The activities conducted by Mr. Sangram Singh Bhadoria, Principal, Gautam International Academy, Dhar taught the learners to deal with the violence issues among children in school. The post lunch session was based on designing of gender sensitive lesson plans and to build a gender sensitive classroom environment to encourage gender equality in school. In the concluding session, teachers shared the problems and suggested measures to overcome the problems.
Workshop on Remodeled Structure of Assessment
April 24, 2018
Ms. Navneet Bhatia of Science Department Junior School attended a workshop on 'Remodeled Structure of Assessment' conducted by The Center of Excellence, Ajmer at Navnidh School, Bhopal on April 24, 2018. School Principal Mr. Rajesh Awasthi and Ms. Poonam Shekhawat from South Valley Public School, Betmawere the resource persons. The assessment structure was discussed as per Bloom's Taxonomy. Mrs. Navneet Bhatia shared her views on assessment structure on flip class. She also shared designing of the learning objectives, developing of the lesson plan, classroom instruction, activities and findings about students' learning and the assessment for learning through videos, debate, making of models, experimentation.
Workshop on Sports Psychology and Sports Injuries
March 17, 2018
Mr. Durgesh Yadav, Junior HOD, Sports Department attended three days University Grants Commission Special Assistance Programme DRS-I workshop on Research Methodology and Sports Psychology in pursuit of excellence in sports organised by School of Physical Education, Devi Ahilya VishwaVidyalaya from March 15 to 17, 2018.
He also attended one day University Grants Commission Special Assistance Programme DRS-I workshop on Sports Injuries and Anti-Doping Awareness organised by School of Physical Education, Devi Ahilya VishwaVidyalaya on February 23, 2018.
Workshop on Mathematics Lab Activities
February 9, 2018
Mr Kannan conducted a session on 'Mathematics Lab Activities'at Choithram School on February 9, 2018 which was attended by eight teachers of the school.With the help of the Mathematics Lab Activity Kit and Manual, the resource person demonstrated various classroom activities using technologylike angles in a semicircle, angles made by an arc on a circle and centre using geoboard, finding LCM, addition/subtraction of fractions etc. The session also displayed the content of Trignometry and Statistics.
Workshop on Guidance and Counseling
February 2 and 3, 2018
To apprise the students about upcoming career fields and to open resource centres in respective schools,a workshop on Guidance and Counseling was organized under the aegis of CBSE for school Principals on February 2 and 3, 2018 at Hotel Mangal City, Indore. The resource persons Ms. Kiran Singh and Mr. Ravindar Rana from College of Engineering Pune addressed the session. Ms. Pallavi Sukhtankar attended the workshop.
Workshop on Recent Advances in Nano Particles and Material Sciences
January 27, 2018
A workshop on Recent Advances in Nano Particles and Material Sciences was conducted by Dr. Rajesh Kumar, Professor, IIT Indore at Shri Vaishnav Vidhyapeeth Vishwavidyalaya, Indore on January 27, 2018 and was attended by Physics teachers Ms. Kalpana Tiwari and Mr. Vishal Sanwatsar. Dr. K. N. Guru prasad, Director of Shri Vaishnav Vidhyapeeth Vishwavidyalaya, Indore was also present on the occasion.Dr. Rajesh Kumar, Professor, IIT Indore dealt at length on the Raman Effect and Photon- Phonon interactions sharing his research work.The quantum confinement effect,the FaNo effect, semiconductors, nano particles in bio sensors were well expounded by the resource person.
In the second session, Dr. Netram Kaurav, Professor, Govt. Holkar Science College, Indore stated the basics of Nano technology focusing on Nanoscience along with a video talk entitled 'There's Plenty of Room at the Bottom' by Physicist Richard Feynman at the California Institute of Technology (CalTech, December 29, 1959).The resource person also informed about coining of the term 'Nanotechnology' and described the innovations and experimentation in Nanoscience and Nanotechnology. He also shared his research success in Nanoparticle and answered the queries related to quantum confinement, entanglementand phonon-photon interaction. The teachers gained insight into the miracles and innovations of Science to share with the students.
Workshop on Hindi Language Teaching
January 13, 2018
Hindi Language Teaching workshop on teaching techniques was conducted by Dr. Pradeep Kumar Jain of the Madhuban group at Hotel Sayaji, Indore on January 13, 2018. The workshop was attended by Ms. Vijaya Shrotriya, Ms. Mamta Sharma, and Ms. Amita Sharma of the Hindi Department. The workshop structured into three sessions commenced with the current status of Hindi language. The resource person emphasized on using video and power point presentation for learning of concepts and shared ways to make it comprehensible. ASL, pronunciation of words and grammar tricks were well covered in the workshop. The concluding session witnessed the clarification of queries.