Quizzing Club Activities
Believing that quizzing can be used as an interactive tool to spread knowledge, the club encourages and motivates young minds in their quest for widening their knowledge base
Quiz Event Conducted by Gyan Utsav
July 4, 2023
"If you're a true warrior, competition doesn't scare you. It makes you better."
In a bid to foster the spirit of healthy competition, students from the Quizzing Club of grades VII and VIII enthusiastically participated in the 'Gyan Utsav' written quiz test. The event was organized by Ekal Yuva Indore on July 4, 2023, serving as a preliminary round. The purpose of this test was twofold: to celebrate the rich tapestry of Indian culture, values, art, music, and Shlokas, all while contributing to the upliftment of tribal villages.The quiz test was followed by an insightful presentation delivered by Mrs. Sarita Mundra, Chairperson of 'Ekal Yuva.' She shed light on the organization's mission and initiatives, inspiring the students to join the noble cause of 'Literate India.' The event not only kindled the competitive fervour among the participants but also ignited a sense of social responsibility, emphasizing the power of knowledge in effecting positive change.
Visit to Central Museum
February 21, 2023
Students of Quizzing Club of class VIII accompanied by Dr. ShoebAdilof Social Science Department, Senior Schoolvisited the Central Museum in Indore on February 21, 2023. The students were exposed to different exhibits and were explained about art and architecture, sculpture, coins, weapons and artifacts of ancient India. The visit to the museum introduced students to a new platform where they work on evidence and availability of resources and also appreciate the skills and technology used in the creation and preservation of artifacts. It encouraged students to get a better insight about the past.
Inter House Junior G. K. Quiz
February 8, 2023
To chisel the quizzing skills of students, Inter House G.K Quiz was conducted by the Quizzing Club on February 8, 2023 for students of classes VI to VIII. Four teams, one from each House with each team comprising four students answered questions pertaining to general knowledge, current affairs visual, reasoning and rapid fire round. The buzzer round was a special round focusing on questions related to Choithram School to ascertain how well the students knew their own school. Gandhi House emerged winner followed by Raman House.
Inter House Senior G.K. Quiz Conducted for Whiz Kids
December 31, 2022
Quizzing Club of Choithram School organized Inter House G.K. Quiz for students of classes IX to XII on December 31, 2022 to check their knowledge about current affairs and business world. Four teams, one from each House, gave a great tussle in five different and interesting rounds viz. visual, reasoning, rapid fire, buzzer round and current affairs. The promptness to press the buzzer, anxiety to excel, recalling the learnt facts, confusion in identifying the visuals and the zeal to answer correctly, was all witnessed in the event. Gandhi House notched the first position with commendable score whereas Buddha House was placed second. The quiz masters' skill of conducting the event, the efforts of the quizzing team to prepare slides and tricky questions and excited audience answering the questions for audience round was quite commendable.
Great Win in Inter School Corporate Quiz
November 10, 2022
TanayMukherji of class X and Al-IqyaanMunavver of class IX won first prize in Inter School Corporate Quiz organized by Career Counselling Department of Choithram School, North Campus.Tanay and Al-Iqyaanreceived a cash prize of INR 21,000.
Participation In Swachhata Pakhwada Organised By CBSE
September 15, 2022
Class VI students of the club participated whole heartedly in 'Swachhata Pakhwada', an initiative of CBSE. Special quiz in the form of MCQs was designed that covered different aspects of Swachha Bharat Abhyaan. The enthusiastic participation by students created awareness about one's responsibility towards keeping the environment clean and green.
Participation in 'Ek Bharat Shrestha Bharat' (EBSB) Programme
February, 2020
Under 'Ek Bharat Shrestha Bharat' (EBSB) programme launched by Hon'ble Prime Minister to celebrate the 'Unity in Diversity' of our nation, maintain and strengthen the fabric of emotional bonds between people of our country and promote the spirit of national integration, students of Quizzing Club organized a quiz event pertaining to the information related to Manipur and Nagaland. They also read news in the morning assembly related to the two states.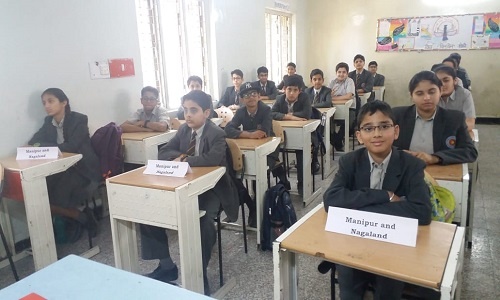 Choithramians Qualify For Second Round of Discovery School Super League
January 12, 2020
The Quizzing Club students of classes IV to IX participated in the first round of Discovery School Super League conducted by Byju's at Hotel Marriot on January 12, 2020. Aliqyaa Munaver of class VI and Dishan Shukla of class IX received gift hampers and qualified for the second round.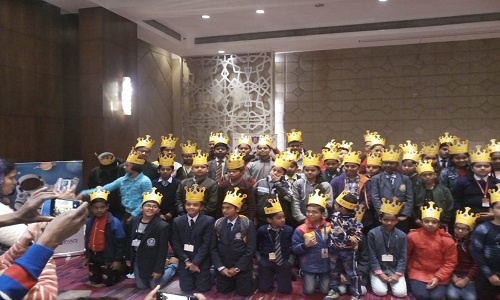 Inter House G. K. Quiz for Junior Category
January 2, 2020
Inter House G. K. Quiz for the Junior Category (classes VI to VIII) was conducted on January 2, 2020. There were five rounds comprising of current affairs and general knowledge, reasoning and mental ability, idioms, visual and audio. The first position was bagged by Raman House and second position was notched by Gandhi House.
Inter House G. K. Quiz for Senior Category
December 2019
Inter House G. K. Quiz for the Senior Category (classes IX to XII) was conducted in the month of December with different interesting rounds viz., audio visual, mental ability, general round and a special round based on Gandhiji. The intellect was on test and the students fought neck to neck for the win. Tagore House emerged the winner while Gandhi House secured the second position.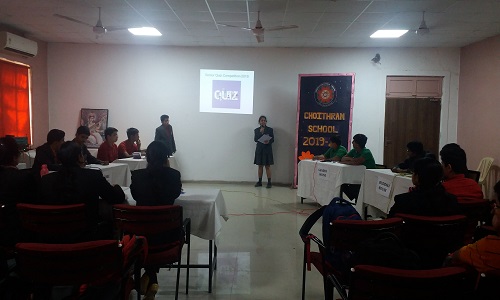 Quiz Based on Mahatma Gandhi
September 23, 2019
The Quizzing Club organised two rounds of Quiz based on Mahatma Gandhi on September 16, 2019 and September 23, 2019 for the students of Class VIII. The first round was a written round from which six teams were selected for the final round. In the final round the Quiz included Power Point Presentation and Rapid Fire Round based on Mahatma Gandhi. The winners were awarded books by the Incharge of Quizzing Club, Mr. Vipin Wagh and Activity Incharge Mrs. Pushpalata Mishra.
47th ILeothon Quiz – Inter School Quiz Competition
September 7, 2019
The students of Quizzing Club of class IX to XII participated in ILeothon Quiz organized by Leo Club of Indore held at Sri Sathya Sai Vidya Vihar on September 7, 2019. The team comprising of Mayank Tejwani of class IX, Mohammad Rajgarwala, Aviral Tiwari, Bhavesh Khatri, Rishi Drabla of class X and Husain Barnagarwala of class XII won first prize in the scientific category.