Photography Club
Many a times children pick up the camera to click something of interest to them but wish to develop their interest further.  The Photography Club allows students to use photography as a medium to creatively express themselves!
Capturing the World Through Lenses: Pratibimb's Photography Club Inspires Young Minds
October 7, 2023
A guest lecture was conducted by the photography enthusiasts of Pratibimb, the Photography Club of SGSITS Engineering College, Indore. The session aimed to introduce students from grade 6 to 8 to the fascinating world of photography. The session commenced with an overview of Pratibimb's illustrious history and impressive achievements, including entries in the Limca Book of Records and India Book of Records. Students were then introduced to fundamental photography terminologies and technical aspects, from shooting pictures and videos to understanding the exposure triangle. Genre diversity in photography, DSLR components, and a comparison between DSLR and mirrorless cameras was also covered. Essential lens types and image file formats were also discussed. The informative session left young minds inspired to explore the world through their lenses.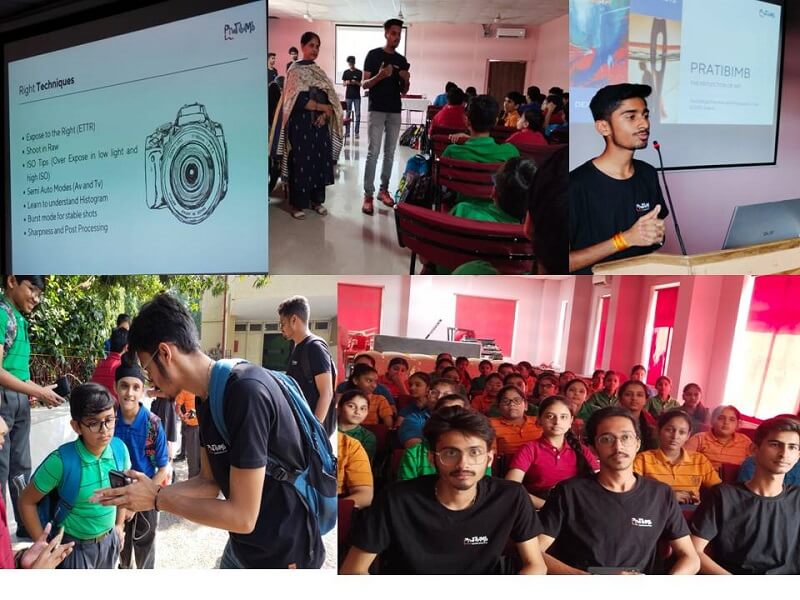 Visit to Central Museum
February 21, 2023
Photography club students of class IX along with the students of Quizzing Club visited Central Museum to learn more about the history, culture, and traditions of India captured through different angles of camera along with artefacts and sculpture speaking their journey. The students were told about the intricacies of the paintings made, photographs clicked and the angles used to highlight the speciality. The mentors of the club briefed the students on how one can ensure a promising career as a historical photographer and capture the memories for the future generations to admire, appreciate and learn.
Choithram Alumnus Shares His Expertise in Photography
January 21, 2023
An editing graphics workshop was organised by the Photography Club for students of classes VIII to X on January 21, 2023. ChoithramAlumnus,VanshKodwani shared his expertise on editing photos and videos on smartphone through VN app (an open source software). The workshop began with showcasing of his work (watching various events of his college through his Phone's camera eye) followed by video clips related to his work. Students of VIII to X were apprised about various topics related to editing (Post Processing) like:
• Utility of video editing for social media and blogging
• Introduction to VN app interface
• Merging small video clips with VN app
• Adding background music, using transitions and filters, Fade in, Fade out, rotate and Flipping feature
• Overlay (placing 1 picture on another picture)
• Adding beats
• Video splitting
• Importing graphics on readymade templates

Wildlife Photography at Indore Zoo
December 3, 2022
Wildlife photography is the art of photographing wildlife in its natural surroundings and clicking photographs of wild animals requires skill and patience. Students of the Photography Club of classes VI to X visited Indore Zoo to enhance their photographic skills and level of creativity by clicking pictures from different angles. They used many elements of photography such as lighting, the rule of thirds, lines, shapes, texture, patterns, and color and blended all the work well together to add interest and a great deal of composition in photographs.
Photography Techniques Taught by Experts
November 5, 2022
A guest lecture was organised by the Photography Club of the school on November 5, 2022 for the students of classes VI to X to learn important skills and utilize their camera to the fullest.Students of Pratibimb Club of SGSITS Engineering College Indore showcased their work through video clips and made the students know about various intrinsic details of photography like basic terminologies, technical aspects to click image, tips and tricks used for skilled photography, genre of photography, DSLR components, DSLR v/s Mirrorless, exposure Triangle , Lens types, RAW v/s JPEG and various image file formats.The studentswere familiarized with different camera modes and how each setting is chosen to create an intended effect. They were taught to develop the 'eye' in shooting quality pictures.
Visit to Nature Nursery to Create Memories Through Camera
September 27, 2022
Photography Club of Choithram School organised a visit to Nature Nursery, near Regional Park, Indore on September 27, 2022. 27 students of classes VI to X accompanied by Mr. Neeraj Motwani and Ms. Harvinder Kaur Shairy visited the nursery to get hands-on experience of clicking pictures of nature. The nursery owner Mr. Dilraj Singh, welcomed the team and gave a detailed description of each plant species with labels and attributes, which was additional information for the students. Students clicked photographs of the plants in landscape mode through different angles in proper light exposure with zeal. All the photographs clicked by the students during the visit to Nature Nursery will be displayed in the Club's Annual Exhibition.
Learning the Nuances of Photography
September 21, 2022
In the words of Ty Holland, 'A photograph is the pause button of life'. In the same context, students of class VIII learnt about portrait photography, different types of shots, shooting flowers through different camera angles, macro photography to bring beauty of the tiniest fractions of the whole, black and white photography; an art to play with lighting and shadows, and different tones of grey to make compelling images.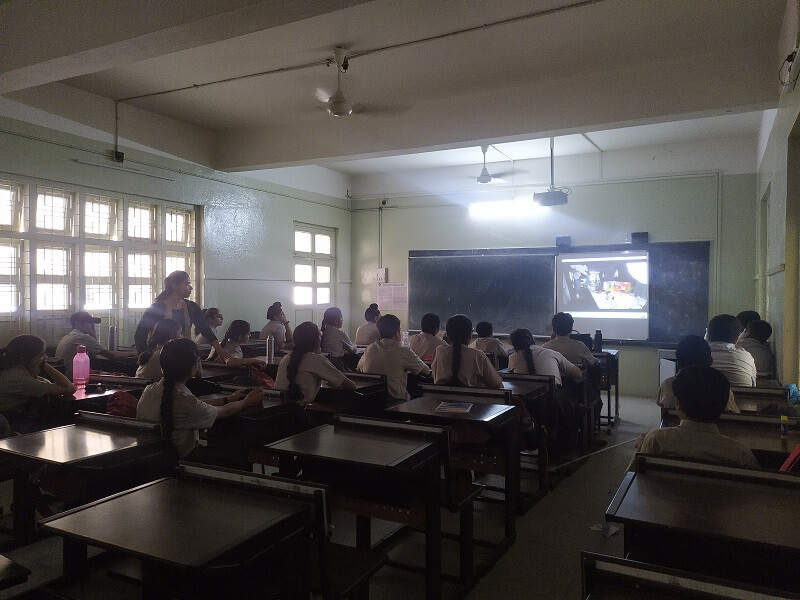 Photography Club Exhibition
January 31, 2020
The Photography Club displayed photographs on the theme 'Flora and Fauna' clicked by students of classes VI to X in an exhibition on January 31, 2020. Trustees of T. Choithram Foundation from Dubai witnessed the exhibition and appreciated the efforts of the budding photographers.
Movie Notches First Prize
August 31, 2019
Students of the Photography Club prepared a movie for 'International Lucknow Fest: Inter School Event for History and Civics' held at Lucknow from August 31, 2019 to September 3, 2019. The movie titled 'World Unity: From Vision to Action' won first prize while competing with more than 70 schools across the globe.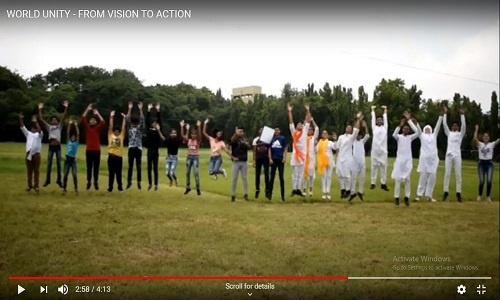 SEWA Project
June – January 2019
With the vision to make the world more beautiful through the eyes of camera, students of the club clicked the images in their respective club periods on the following themes –
Peeling off and Pile photography, Optical Illusion, Micro, Abstract, Still life, Surreal and Infra-red photography, Product photography, Texture and Leading line photography, Neon architecture and Indoor photography and Sun dried objects photography. The club collaborated with the other clubs and visited slum area and old age home to capture vivid images. To discover, develop, and express their creativity, the photography enthusiasts of the club covered the Annual Athletic Meet from the inaugural ceremony to the culmination ceremony, Health Mela organized by Health and Wellness club, Awareness Rally for environmental conservation organized by junior school students and morning assembly presentations. Students also clicked the pictures of the guest speakers in different subjects. The activities conducted by the club sharpened the photographic skills of the students.