Personality Grooming Club
The Personality Grooming Club has been introduced in classes I and II to groom the personality of students and bring positive changes in them
Learning to Invest
January 8, 2016
A 'Piggy Bank Making' activity was conducted for students of classes 1and 2. They demonstrated their creativity by making beautiful toy shaped piggy banks using waste materials.Through this activity they learnt the importance of saving money and reuse of waste materials.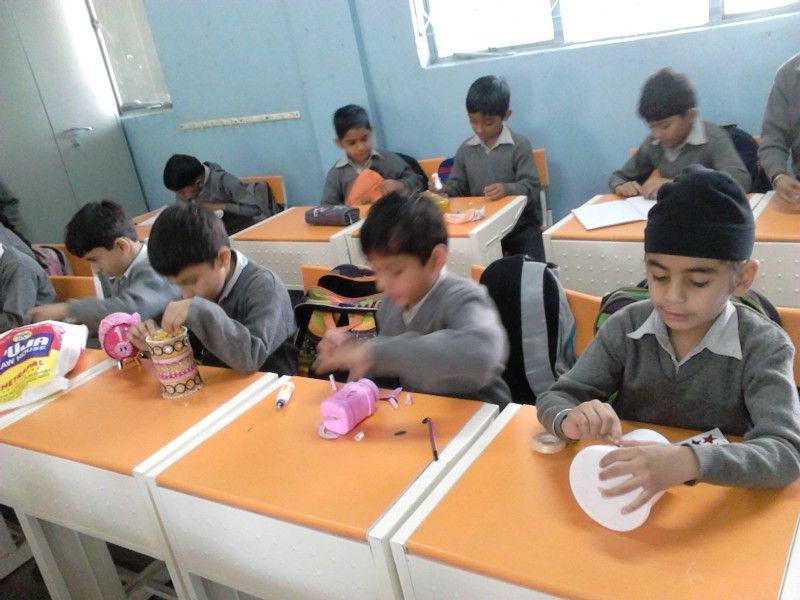 Importance of Library
October 15, 2015
Books are our best friends and library is a place where treasure of books can be found. The library occupies a very important place in school where students find an environment which is conducive to the building up of habit of self-learning. Teachersof class II elaborated the library rules and discussed the values of books in our daily life. Later on a visit of school library was planned for the students where they learnt how to maintain discipline in the library and handling the books with utmost care. The school librarian explained them the process of issuing library books and other rules. This activity encouraged students to spend a significant amount of time with books.
Telephonic Conversation
September 10, 2015
Communication is the most effective way of sharing our feelings with others. In order to develop telephonic communication skills of class I students, the teachers shared various ways of communicating over telephone. They also taught them the etiquettes which they should remember while conversing with someone over phone. Some rules on how to receive a call, make a call, send a message, ask for the information were also displayed on the soft board.
Correct Body Postures
July 16, 2015
Correct body postures boost up our confidence and are very important to keep us healthy. Keeping this in mind, correct sitting, standing and walking postures were shown to the children.
Self Introduction
June 25, 2015
Personality development is the development of organized pattern of behaviour and attitudes that make a person distinctive. To refine student's personality and to develop confidence 'Self Introduction' activity was conducted for class I on June 25, 2015.
July 2014 onwards
To groom the personality of students and bring positive changes in them, the Personality Grooming Club has been introduced in classes I and II. Through various fun-filled activities and power point presentations, the students have learnt how to walk in a correct posture as well as the importance of self-hygiene. They were advised not to drink water in between and not to talk while eating, not to watch television while eating. They also learnt greeting manners at the front door and table manners. Greeting manners at the front door were taught in class by teachers and then role play by students was done. The children were made aware of salutations such as hello, please come in, it's great to see you etc. While teaching table manners, PPT was shown to children and they were told the importance of chewing food properly, spreading napkin on lap.