Eco Club
The club provides a plethora of activities to sensitize the children, the future generations to safeguard the environment and enable us to move towards a greener tomorrow
Show and Tell Activity
August 16, 2023
In order to educate grade 3 students about the medicinal benefits of plants, a Show and Tell Activity was organized. The students enthusiastically brought in different parts of plants such as stems, leaves, and roots from their homes, and shared their knowledge of the plants' medicinal properties with their classmates. This activity served to enhance the students' understanding of the usage and benefits of plants like tulsi and aloe vera.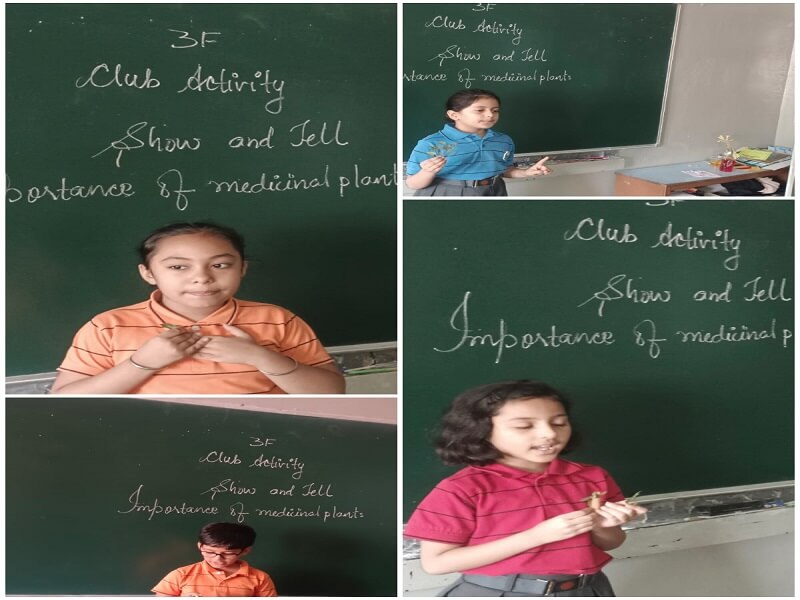 Session on Rain Water Harvesting
August 14, 2023
Session on importance of rain water harvesting was conducted for grade 5 students by Ms. Rimjhim Joshi, a distinguished Biology mentor, Curriculum Leader and Secondary Biology teacher, GEMS, Westminster School, UAE. Ms. Joshi has also received ABAP Young Scientist Award 2014. She enlightened the students on the urgent need to conserve water. During the session, the students were taught various methods and techniques for effectively harvesting rainwater.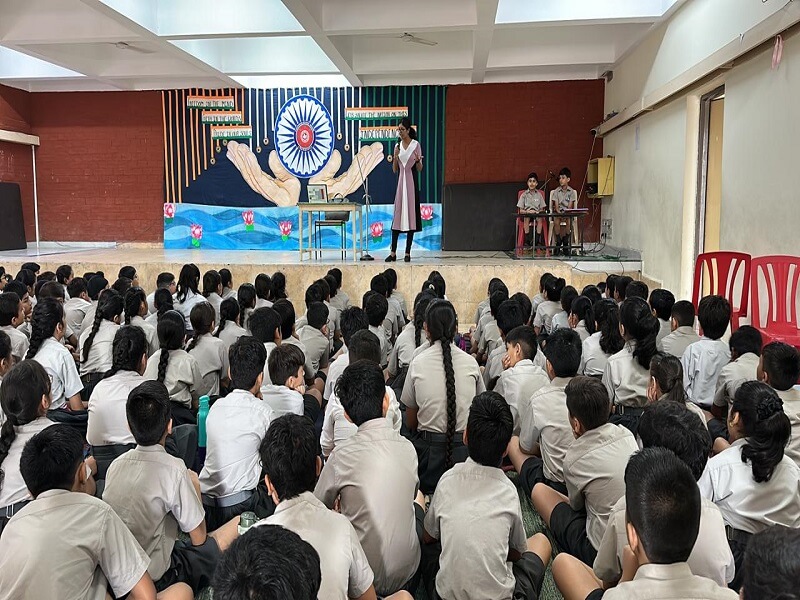 Gifting a Bag of Courtesy
August 11, 2023
When children are given materials to work with, they have the opportunity to explore, expand their creativity, and learn. In grade 2, the little ones decided to create a Bag of Courtesy using newspapers. They not only made the bag but also wrote a heartfelt message for the helpers, showing their appreciation. Finally, they gifted the bag to their favorite helper. This activity not only showcased their creativity but also brought immense joy to the helpers who were delighted to receive such a thoughtful gift.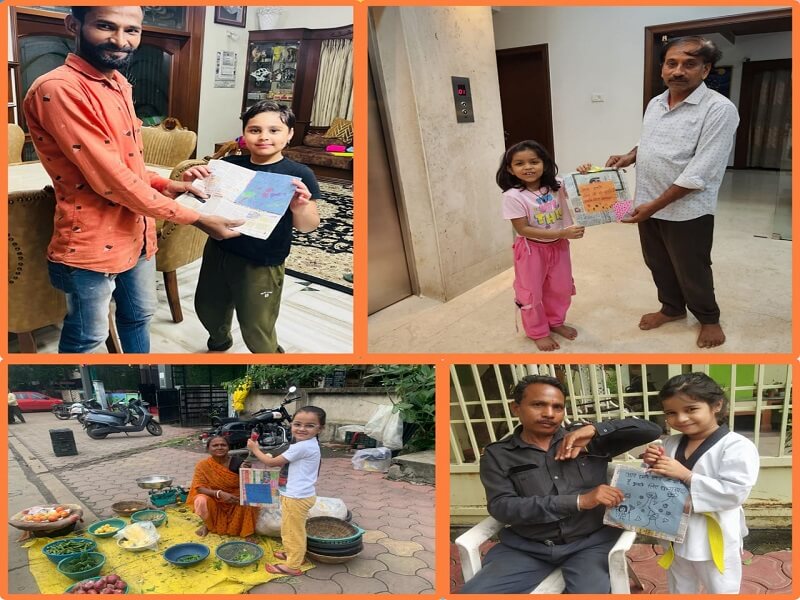 Reviving Old T-Shirts: A Sustainable Leap Towards Eco-Friendliness
July 25, 2023
Class 8 Eco Club members showcased innovative eco-friendliness by repurposing old T-shirts into stylish and functional bags. This hands-on activity not only taught resourcefulness but also promoted waste reduction, nurturing a generation of environmentally conscious individuals. Their efforts echo the club's mission, inspiring peers to embrace sustainability and become eco-ambassadors for a greener future.
Celebration of Vanamahotsava
July 6, 2023
The Vanmahotsav, also known as the Forest Festival, was celebrated as a part of the Eco club's activities. During this event, students from grade 3 to 5 were educated about the significance of trees. In particular, grade 3 students took a pledge to actively participate in tree conservation efforts. Grade 4 students created posters to increase awareness about this cause and also crafted wristbands with messages promoting the importance of tree preservation. These wristbands were distributed to their younger peers. Furthermore, grade 5 students were given a demonstration on how to make seed balls and they learned about seed dispersal techniques to grow seeds. As part of the celebration, students also shared various facts related to the Vanamahotsava during the assembly.
Save Trees, Save Environment
March 2, 2023
Educating children early in their formative years about environment protection can bring about a change in their outlook and make them aware of their duties to conserve nature. To realize the importance of trees and spread the message of saving trees, a rally was taken out by the children of class I. Children displayed lot of enthusiasm while shouting different slogans on save trees, save environment.
Making Eco Friendly Colours
February 28, 2023
'A little effort makes huge difference'. Keeping this thought in mind, students of classes III to V prepared eco-friendly colours to be used in the forthcoming festival of Holi. The objective was to sensitize them towards the environment and make them aware about the ill-effects of chemicals used in colours available in the market.
Seed Sowing and Quiz on Environment
February 11, 2023
'Let us nurture nature to have a nurturing future!' Keeping this thought in mind, visit to School Nursery for class III and Quiz on the theme 'Plantation of seeds and Environment'for class V were organized.The objective of these activities was to make the children eco-friendly and sensitize them towards the environment. During their visit to the nursery, the students learnt about growing the seeds.
Bird Feeder Making Activity
December 8, 2022
To sensitize the students about our feathered friends and develop care and compassion towards all the creatures around us, Bird Feeder Making Activity was conducted for students of classes III and IV. The students created beautiful bird feeders from old plastic bottles. Thereafter, they put pulses in these bird feeders and hung them on trees inviting their feathered friends for a feast.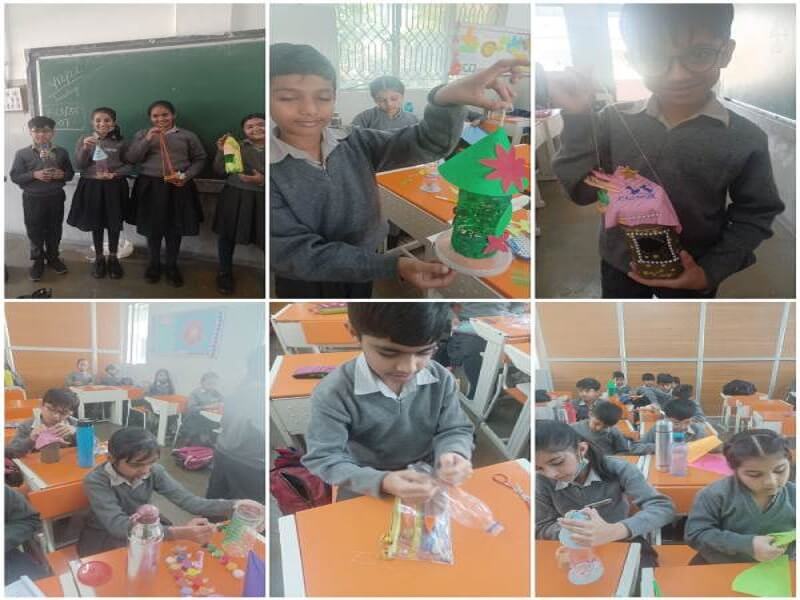 Newspaper Bag Making Activity
December 8, 2022
'Creativity is making marvels out of discarded'. With this thought in mind, Paper Bag Making Activity was conducted for class V students. Students prepared bags using old newspapers. The activity encouraged students' imaginative skills to create useful products out of waste material. It also helped them to understand the importance of preservation and to become responsible towards nature.
Nursery Visit to Know How Nature Blossoms
October 29, 2022
Eco Club students of classes IX and X visited Choithram Nursery to know about different plants and the right methods to grow and nurture them. Mr. Rana, School Horticulturist apprised the students about the right way of sowing seeds, manure used for their growth, pest control requirement and methods and variety of flora like mehndi tree, custard apple tree , coconut tree etc.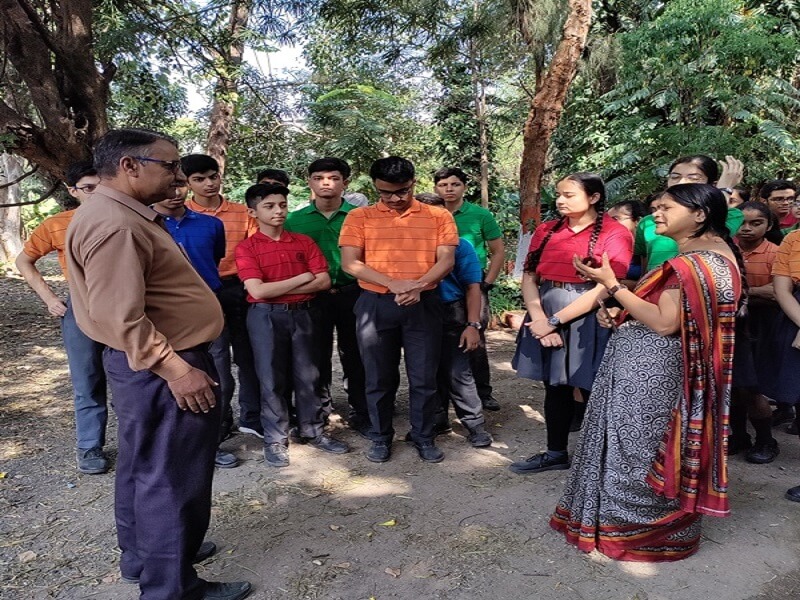 Poster Making Event to Celebrate Eco-friendly Diwali
October 11, 2022
With the objective of celebrating eco-friendly Diwali, Poster Making Event was organized for students of classes 3 to 5. Through their creative art work, the students portrayed the message of their responsibility towards the environment.
Poster Making Event on International Coastal Clean-Up Day
September 20, 2022
Students of classes VII and VIII participated in 'Swachh Sagar Surakshit Sagar' Campaign by CBSE to celebrate the 'International Coastal Clean-up Day', which is celebrated on the third Saturday of September every year. Through their artistic work, the students conveyed the message of becoming responsible and making our water bodies clean and beautiful.
Guest Lecture to Sensitize Students Towards Environment
September 19, 2022
Eco Club of the school organized a guest lecture on September 19, 2022 to make students of class VII aware about the environmental problems and the ways to combat them. Ms. Padmakshi Swami, an environmentalist, was invited to share her expertise and her unique ways to take care of mother earth with small changes in our lifestyle and usage of items which we require daily. She brought bamboo brushes, bamboo plates and other eco-friendly items and told the students to prefer using eco-friendly items by replacing plastic and paper. She shared the advantages of using such items over non-degradable items.
Dustbin Making
September 15, 2022
To encourage the students to recycle raw material for storage of waste i.e. dustbins,
an activity was conducted in class V wherein the children came up with creative ideas of trash cans such as using the concept of different colours for dry and wet waste.
Slogan Writing on Swachhata
September 13, 2022
The main purpose of the activity was to spread awareness among the children and general public about maintaining cleanliness with the help of slogans on the topic Swachhata.
The activity was conducted in the classroom wherein the children were given exposure to express their thoughts in the form of motivating slogans.
Hand Wash Activity
September 12, 2022
Clean India, Green India, is our dream India! According to the Action Plan for Swachhata Pakhwada under the Ministry of Education Department of School Education and Literacy, children of class III were taught proper method/steps/hand movements, timings of hand washing with the soap before and after eating. Students thereby learnt the importance of cleanliness in daily life.
Eco friendly Ganesha Making Activity
August 30, 2022
Students of classes VI to VIII made eco-friendly idols of Lord Ganesha during the period August 24 to 30, 2022. These ecofriendly idols which could be easily dissolved in water causing no harm to rivers and lakes. This activity made the students sensitive towards saving environment.
Bottle Fish Art Activity
August 18, 2022
Children of class IV made beautiful drawings with the help of the waste bottle caps and coloured sheets as a part of Bottle Fish Art Activity. While learning optimum use of material they also showcased their creativity.
Seedballs For Plantation
August 6, 2022
Students of class VII to IX made seedballs during the period July 26 to August 6, 2022 wherein they put seeds of different plants and distributed them amongst students and teachers. Students and teachers could grow these seedballs or them on the way while travelling so that they could contribute in plantation drives.
Plastic Bottle Gardening
August 2, 2022
Students of class VI and VIII used their creativity to convert waste plastic bottles into decorative pots for growing plants during the period July 20 to August 2, 2022.
Vegetable Painting Activity
July 21, 2022
Children of classes III, IV and V made beautiful paintings from vegetables such as potato, ladyfinger, capsicum etc and enhanced their creative skills.
Book Mark Activity
June 23, 2022
Children of classes III, IV and V made book marks on the theme 'Save Earth'. The activity not only enhanced their creative skills but also enabled them to be sensitized towards the mother earth.
Making Newspaper Bags
March 4, 2020
To sensitize the students and create consciousness towards the use of biodegradable products, the Eco Club planned newspaper bag making activity for students of classes III to V. The students exhibited their creative skills by making paper bags of different shapes and sizes using old newspapers. The fun-filled activity inspired the students to contribute their bit by using paper bags and saying no to plastic bags.
Say No to Plastic
January 30, 2020
We all are aware how our natural environment is getting cluttered and is already on the verge of losing its balance owing to the modernization and development. One of the primary culprits of this is plastic, which causes great harm to the environment and is the major contributor to the rising levels of varied pollutions. To create awareness in this regard, a skit was presented by the Eco Club students of class IV on the topic 'Say No to Plastic'. The young and talented minds splashed innovative ideas to avoid the use of plastic and exhibited the same using their artistic skills. They gave realistic and practical references to make it more effective and committed to start from individual level.
Creating Environmental Consciousness
January 29, 2020
Environmental protection has become the need of the hour; educating children about environmental protection can bring about a change in their outlook and make them aware of their duties to conserve nature. To create awareness and convey the message to protect the environment, Eco Club students of class III presented a skit in the morning assembly.
Poster Making Activity
November 23, 2019
Pollution is an enemy of human body and environment. It is slowly kicking into the system and causing massive damage. To sensitize the students towards the environment and also about the disastrous effects of pollution, 'Poster Making' activity was planned by the Eco Club for the students of classes III to V. The students painted their perceptions on paper about saving the planet earth from pollution. They wonderfully depicted the dangers harming the planet and also the uniqueness of the planet was showcased through the variations of colours.
Cleanliness is Next to Godliness
October 15, 2019
Cleanliness has a crucial role in our life. It is vital for a healthy body, mind and spirit. It is essential that the habit of cleanliness be instilled in an individual right from childhood. Taking cue from this a speaking activity was planned by the Eco Club for the students of class III on the topic 'Cleanliness is Next to Godliness'. The children participated ardently in the activity and expressed their views with poise.
Cleanliness Drive
September 25, 2019
To mark the 150th birth anniversary of Mahatma Gandhi, the students of class V participated in the 'Cleanliness Drive' on September 25, 2019. The students pledged to keep their class, corridors and premises clean as well as spread the message of cleanliness amongst others.
'Swachhata hi Seva 2019' Awareness Drive
September 21, 2019
'Swachhata hi Seva 2019' Awareness Drive was organized under the Swachh Bharat Mission initiative of Prime Minister Mr. Narendra Modi by the students of the Eco Club on September 21, 2019. The students displayed logos and slogans promoting 'Plastic Waste Awareness and Management'. The students drew everyone's attention to the hazardous effects of single-use plastic on the environment and the health of animals and aquatic life. They appealed to everyone to use cloth or jute bags while going out shopping and use metal or earthen glasses for serving water in offices.
Plantation Week
September 16-21, 2019
Eco club students of classes VI and VIII celebrated 'Plantation Week' from September 16 to 21, 2019. They identified ecologically barren areas in the surroundings of school and participated in the intensive plantation campaign. The activity has turned out the area into green bed.
Guest Lecture to Develop a Kitchen Garden
August 7, 2019
Eco Club arranged a guest lecture on August 7, 2019 which was taken by Ms. Tanuja Vaidya, an entrepreneur who owns a nursery and participates in exhibitions related to plants. Ms. Vaidya briefed the students about 'Developing a kitchen garden or front garden at home' for the students of class VII. The students learnt about developing a beautiful garden in a small area and making of seed balls. They were very curious to know about gardening and asked many questions to understand the planting of seeds.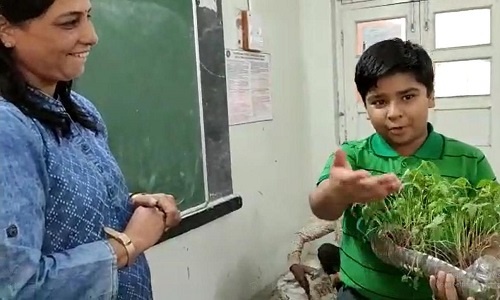 Session on Waste Management
July 9, 2019
To sensitize the students towards the environment and motivate them to become conscientious citizens, a guest lecture was arranged for the Eco Club students of classes III to V on July 9, 2019. Mr. Shri gopal Jagtap former head of Indore Urban Development Sector was invited to enlighten the students with his immense knowledge and innovative ideas. He encouraged them to keep the surroundings clean and protect the environment. He also shared about the various techniques of waste management that would help in doing the same. It was a fruitful session and would surely help the young minds to become environment friendly.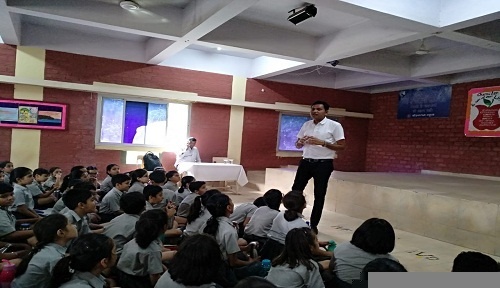 Session on Importance of Plantation
July 6, 2019
To sensitize the students towards importance of plantation, a guest lecture was arranged by the Eco Club for the students of classes III to V. Mr. Tiwari from Kadam Group, Indore enlightened the students about the significance of planting trees and motivated the students to protect and conserve the environment. He also encouraged them to plant saplings in their vicinity for a greener world.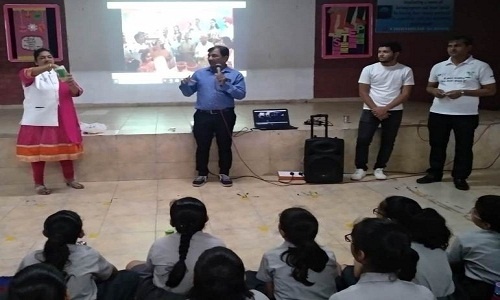 Preparation of Eco-Friendly Colours
February – March 2019
To sensitize people towards ill effects of chemical colours and to encourage environmental awareness in them, students of classes VI to IX prepared natural coloursusingskin friendly ingredients like turmeric, corn flour, henna, beetroot, orange peels, mint and coriander leaves to celebrate the festival of colours-Holi. The herbal colours were later displayed for sale to the school staff.
Paper Bag Making Activity
January 16, 2019
Eco Club focuses on spreading awareness about recycling, reusing, and reducing. Polythene bags have to be shunned and paper bags have to become the norm to save the planet. To give a fillip to this idea, a paper bag making activity was taken up by Eco Club for students of classes III, IV and V. Students used discarded newspapers, magazines and notebooks for this activity.