MANKIND IS OUR BUSINESS
Community Service Club
The club members develop a sense of importance of rendering service to all members of the community by exposure to unfamiliar environment, particularly with people less fortunate than themselves.
Guest Lecture for Instilling Values of Helping Others
September 20, 2022
A guest lecture by Ms. Madhvi Moyde, a social activist was organised for the Community Service club students of Class VIII. The students were excited to learn about the work experience of a young, energetic person in the field of Community Service and were motivated to extend their helping hands for the needy. The session was interactive wherein the students asked questions from the resource person who answered them enthusiastically.
Preparing Cloth Bags To Save Environment
September 16, 2022
Students of class VIII of the club prepared cloth bags in the month of September 2022 to promote usage of eco-friendly bags and discarding use of plastic bags. The waste cloth pieces were brought by the students, stitched by the club teachers and painted by the students.
Message Writing on Postcards
September 8, 2022
To learn a new form of communication without feeling the need of Facebook, WhatsApp or e-mails, an activity related to this was planned for the children of classes III to V. They expressed their love and showed gratitude towards their grandparents by writing small quotes and messages on it. The purpose of the activity was to make them aware about traditional way of communication. These postcards were dispatched so that their loved ones would come to know about the feelings of their grandchildren.
Rakhis Prepared To Show Gratitude To The Soldiers
August 8, 2022
Students of classes VI to X of the club prepared beautiful handmade rakhis using colourful decorative material, rolis, akshat etc. in the month of August 2022. They later sent them to the soldiers at MHOW Cantonment as a gesture of gratitude for their selfless service to the nation.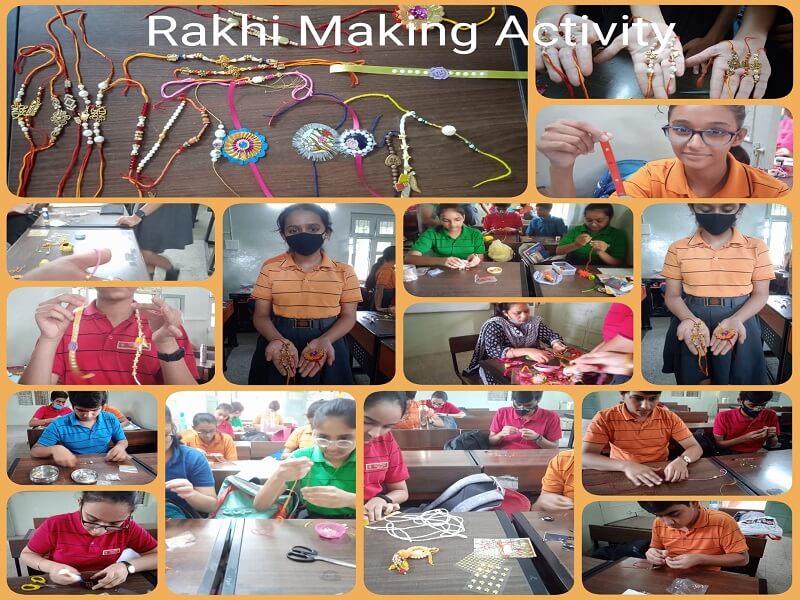 Book Donation Drive
July 20, 2022
Reading is important because it makes you knowledgeable and stimulates your imagination. It also helps in self-exploration. As a part of 'Reading Month Celebration' organised by CBSE, Book Donation Drive was conducted from July 1 to July 20, 2022 in the school encouraging students to donate old books. Students of the club will distribute them to the needy students of villages in order to inculcate reading habits in them.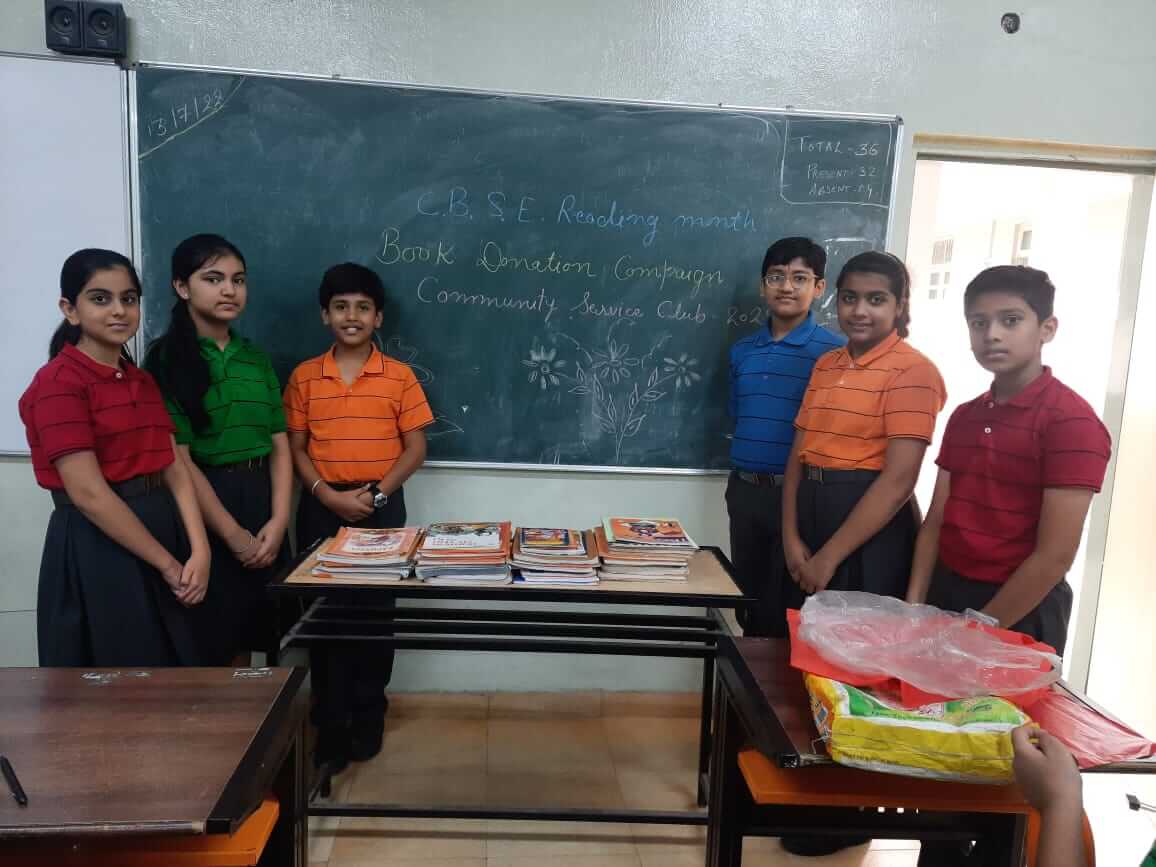 Gratitude Card Making Activity
July 14, 2022
Gratitude is a simple expression of appreciation for the things, people and happiness we have in our lives. To inculcate the habit of showing appreciation, an activity was planned for the children of classes III to V. They expressed gratitude towards Community Helpers by making beautiful cards and writing small thank you notes.
Artificial Lower Limb Distribution Camp Organised in the School
February 24, 2020
Artificial Lower Limb Distribution Camp was organized by Choithram School, Indore in association with Vijayant Scout group on February 22 and 23, 2020 and was held in Choithram School campus. Around 185 people from Indore, other cities of Madhya Pradesh and various states of India benefited from this two day camp. The beneficiaries were earlier called in the month of January, 2020 for diagnosis and measurement of amputated limbs. Subsequently, high-quality, light-weight artificial limbs were prepared as per the requirements in the form of Jaipur foot (above knee and below knee). 60 out of 185 persons were given calipers and crutches too. The beneficiaries were assisted by expert prosthetic technicians from Mumbai for fitting of the limb. 60 student volunteers of Choithram School along with their teachers lent a helping hand in the camp, assisting the beneficiaries at various stages from registration, limb fitting to lunch.
Visit to Sri Sri Gyan Mandir School
January 18, 2020
To inculcate the feeling of empathy and conscience amongst the students, a visit to Sri Sri Gyan Mandir School was organized for the students of class V on January 18, 2020. The students of our school were able to bring a smile on the faces of the students of Sri Sri Gyan Mandir School by spending time with them and presenting them stationery items.
Artificial Lower Limb Distribution Camp Organised in the School
January 12, 2020
Artificial Lower Limb Distribution Camp was organized by Ratnanidhi Charitable Trust Mumbai, Choithram School, Indore in association with Symbiotec Pharma Lab(P) Ltd and Rotary club of Indore, Uptown on January 12, 2020 in Choithram School premises. Around 185 people benefited from the camp. Students as well as teachers of Choithram School rendered their services for the noble cause. The process of distribution was completed in four phases – Registration, Photograph, Fixing the limb and Counseling of the amputees. The beneficiaries were instructed about the safety measures and precautions to help prevent the problem of artificial limbs.
Book Donation Camp – Mission Million Book Project
January 5, 2020
The school in association with Ratna nidhi Charitable Trust Mumbai and Rotary Club of Indore, Uptown organised 'Mission Million Book Project' wherein a donation camp was set up in the school for providing books to government schools on January 5, 2020. 30 volunteers from the Community Service Club participated in the same. They worked hand in hand with the other hearing and speech impaired volunteers. The students not only helped various representatives of different government schools in selection of books but also maintained a record of books being taken by each of the school. 124 government schools benefited from the camp.
Visit to Kasturba Gandhi National Memorial Trust
September 27, 2019
Class VIII students of Community Service Club, visited Kasturba Gandhi National Memorial Trust along with the students of Santa Maria Del Pilar School, Marianistas, Zaragoza, Spain on September 27, 2019. They observed an exhibition where the old letters, documents of past, diary of Gandhiji's wife Kasturba was displayed along with hand woven clothes, shawls and saree woven by Kasturba herself. They were in awe to get a chance to weave their own yarn from cotton over spinning wheel. They were told that all the students studying there weave their own clothes. This gave a glimpse in to the philosophy of 'Self Reliance' proposed and practised by Gandhiji which was the very basis of Indian Freedom Movement.
Food Donation Drive
August 11, 2019
'Food is symbolic of love when words are inadequate.' To spread the love of their hearts and feed the needy ones, a food drive was organised on August 11, 2019 by Community Service Club students in collaboration with Robinhood Army, Indore. The students distributed around 1000 food packets to the slum dwellers of Rau and Nehru Nagar, which were provided by the school as well as brought by the students from home.
Extending Helping Hand to Anubhuti Vision Sewa Sansthan
August 6, 2019
In order to inculcate the value of empathy and helping others, the students and teacher of 'Anubhuti Vision Sewa Sansthan' were invited to put up handmade rakhi stall on August 6, 2019 in the school. Students of Community Service Club helped the uniquely abled children of 'Anubhuti Vision Sewa Sansthan' to sell the rakhis made by them. The school community appreciated the efforts of the uniquely abled students and rendered a helping hand for their artistic work
Visit to Sankar Kendra, a School for Underprivileged Children
April 6, 2019
Students of class X of Community Service Club accompanied by Community Service Club Incharge teachers – Ms. Reshma Dave and Ms. Neelima Shah visited Sanskar Kendra, a school for the underprivileged children residing in slums near Vijay Nagar. They were accompanied by Ms. Paola Fatur, Senior Programme Manager, School Enterprise Challenge (Global Awards), Teach a Man to Fish, U.K. The visit aimed to transform the lives of these less fortunate children through educational approach. The teachers of the Sanksar Kendra Ms. Monica and Ms. Rekha briefed about the activities of the children at Sanskar Kendra. Students of the club gifted 30 children in the age group of 5 to 15 years of the Sankar Kendra stationery items, block games and story books. The students of the club displayed a sense of responsibility while distributing learning tools to these 'children of the lesser God'.