MANKIND IS OUR BUSINESS
Community Service Club
The club members develop a sense of importance of rendering service to all members of the community by exposure to unfamiliar environment, particularly with people less fortunate than themselves.
Guest Lecture by a Promising Choithramian
July 25, 2023
Members of the Community Service Club from grade VIII were privileged to attend a guest lecture on July 25, 2023 by Ms. Bhrami Tiwari, a dedicated student of Choithram School and an active social worker focused on Animal Welfare. Brahmi conveyed to the students that age is no barrier when one has lofty and altruistic goals. She advised the students to approach community service pragmatically, emphasizing that even small actions can lead to significant impacts. Using a dynamic PowerPoint presentation, she showcased her own work, illustrating how minor initiatives can culminate in major advancements. She underscored the importance of environmental awareness and shared engaging anecdotes related to animal welfare. She encouraged the students to make informed decisions rather than blindly following others and invited them to volunteer in similar endeavours. The interactive session saw the club members pose a variety of questions and share their own experiences. The students were both astonished and inspired to have one of their own schoolmates deliver such an impactful session.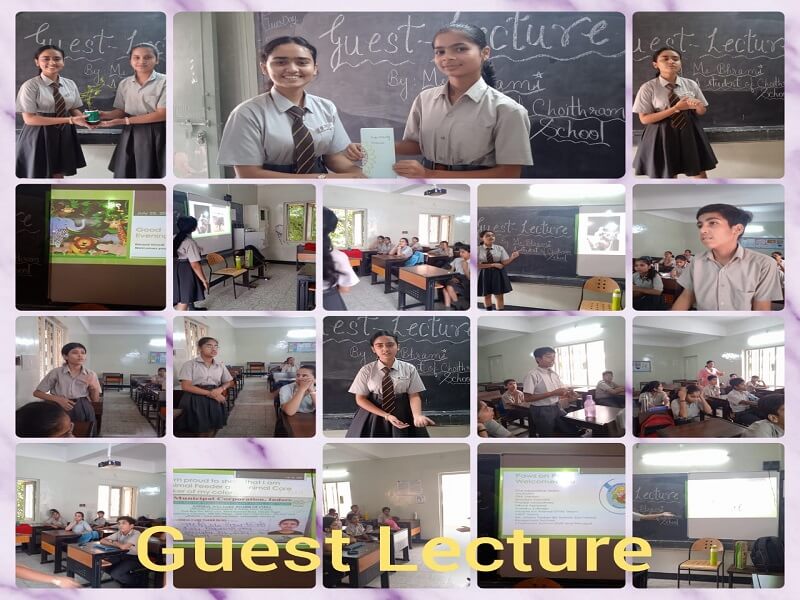 Workshop on Eco-Friendly Pot Making
July 23, 2023
A workshop on eco-friendly pot making was conducted on July 23, 2023, for students of grade VII members of the Community Service Club. Ms. Shivani Singh, associated with the Narmada Shri Women Empowerment Organisation in Omkareshwar, guided the students in crafting pots from materials like incense sticks, betel leaves, and dung from the 'Nirmalya' collected from Omkareshwar Temple. The created pots were then distributed among the students. During the workshop, the students pledged to protect their environment and adopt the use of eco-friendly products.
Guest Lecture to Inculcate the Habit of Extending a Helping Hand
July 19, 2023
On July 19, 2023, a guest lecture was organized for the students of grade VI who are part of the Community Service Club. Mrs. Swati Vijayvargiya, an active member of the 'Daanpatra' NGO, graced the event as the guest of honour. She motivated the students towards the act of donating. She emphasized that items we consider as waste could be valuable to the less privileged, making a significant difference in their lives. Mrs. Vijayvargiya shared a life-changing incident from her own experiences that led her to dedicate herself to this field. She encouraged the young participants to contribute towards building a happier and healthier society by extending a helping hand. The speaker stressed the importance of charitable actions and highlighted that even simple acts such as teaching a watchman's children or providing food to someone in need can bring smiles to faces.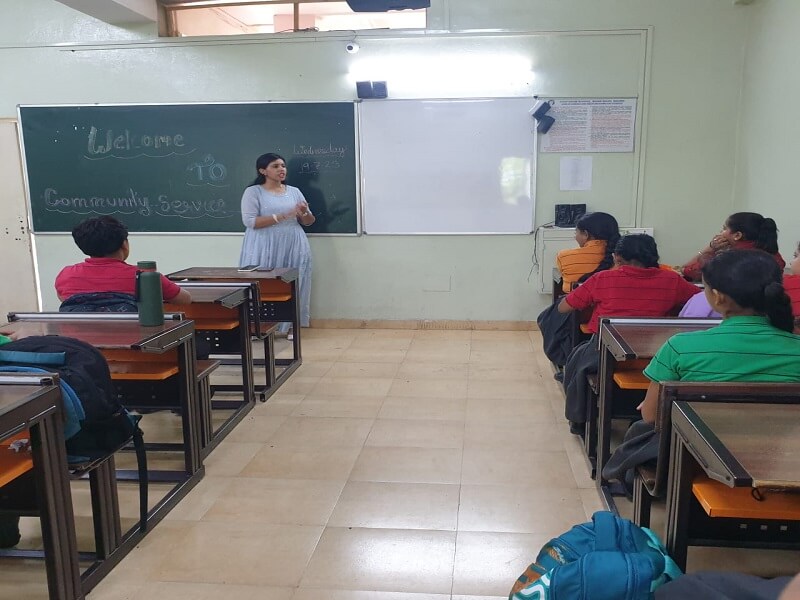 A Kind Gesture to Show Gratitude
March 15, 2023
'Gratitude is the most humble attitude'. In lieu of this, students of class VI, VII and VIII of the Community Service Club showed their gratitude towards the helpers by distributing cloth bags painted by them along with a thank you card for the services they provide to the fraternity. The support staff felt elated with the words of gratitude and appreciation exhibited by the students of the Club. This gesture made the students acknowledge their services and made them learn to be humble and respectful to them.
Visit to Seva Mandir to Salute the Spirit of Children with Special Needs
February 15, 2023
The members of Community Service Club of class VI got an opportunity of visiting Seva Mandir, a school for visually handicapped, hearing and speaking impaired children on February 15, 2023. The club members presented an array of activities comprising singing, fun games, lucky draw to reach out to the physically challenged children. The mentors of Seva Mandir appreciated the club members for their kind gesture and discipline and shared about their teaching mechanism.The club members admired the spirit of the physically challenged students, their will to overcome their physical impairment, their own acquired ways to become self-dependent, zeal and zest to survive and excel and smile on their face reflecting peace and contentment.
Real Life Learning at Blind School
February 11, 2023
The members of Community Service Club of class VIII got a life-time experience of visiting Helen Keller Blind School. The club members were astonished to observe the disciplined life of the visually handicapped children as well as perceive how self-dependent they were. They learnt how these children study with the help of some special instruments like tailor-frame, slates to write, special toys to torecognise the surroundings, braille as well as use the mobile-phones efficiently. The visit enabled the club members to introspect and note that they are blessed, should value what they have and empathise with the struggles faced by these children with special needs.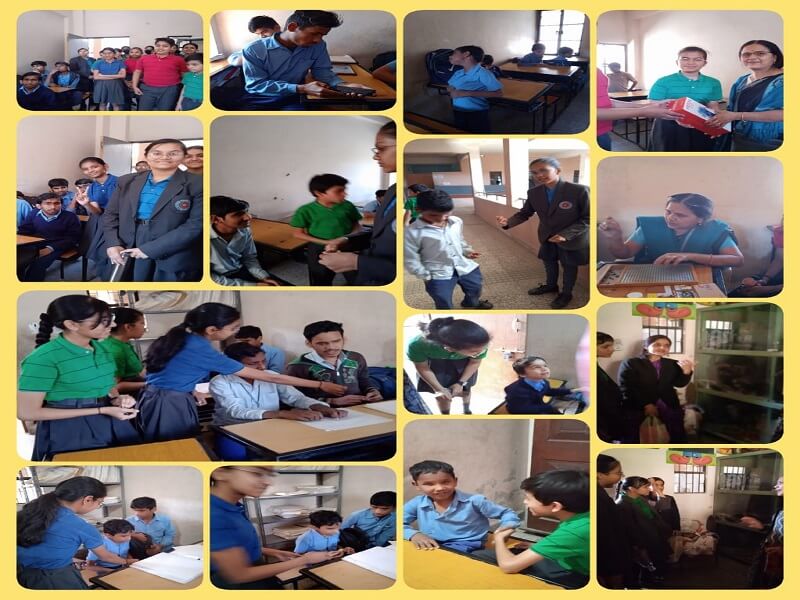 Visit to Anubhuti Multiple Disability Centre
February 6, 2023
The members of Community Service Club of class VII visited Anubhuti Multiple Disability Centre on February 6, 2023 to meet children with special needs. The club members were awestruck to see how these visually handicapped, hearing and speaking impaired as well as mentally challenged children manage their daily chores and challenges with positivity. It was a delight to watch the club members and the physically challenged children chanting shlokas and singing songs. The club members also distributed toffees, chocolates and biscuits. The time spent with these students will enable the club members to accept, adapt and empathise with such people in future too.
Visit to Visarjan Ashram and JeevanShala High School
January 30, 2023
Every child must have access to quality education as it develops essential skills to earn a living and make informed decisions. Keeping this in mind, a visit was planned to make students aware about the importance of education for unprivileged children. Students of class III visited Visarjan Ashram and JeevanShala High School, Navlakha. A small programme was organized by the host school on the occasion of Martyr's Day. Our students also participated in it, narrated short stories and experienced the different way of learning in the school.
Interactive Session with Member of Daanpatra NGO
January 25, 2023
A guest lecture was organised on January 25, 2023 for the Community Service Club members of class VI. The speaker, Ms.SheetalJaiswal an active member of Daanpatra NGO narrated her life changing incident describing why she had decided to come in this field. She motivated the young members to extend their help to build a happier and healthier society. She explained the importance of charity and emphasised that one's selfless act reaps a life-long satisfaction. She enumerated that teaching the kids of the house help, helping a person to carry his luggage, assisting someone to cross the road are enough to bring a smile on others' faces.
Family Tree Making
January 5, 2023
An activity 'Family Tree Making' was conducted for students of classes III, IV and V. Students showcased the love towards their family members by pasting the pictures and writing their names with a describing word. They were happy to see different generations on that chart. They also introduced their family members to their peers and enjoyed talking about them.
Community Service Club Students Visit Shukravasa Village
November 22, 2022
'Alone we can do so little, together we can do so much'.Tosensitize the students towards social service, a visit was organized for the students of class IX and X of Community Service Club to Shukravasa village where a social service organization HOWL group volunteers education and health services. Eleven students accompanied by the club In-charge Ms.Reshma Dave alongwithMs.MeenuPandit and Mr.YogeshRathore of the Senior School visited the village on November 22, 2022. A documentary based on the objectives of HOWL group and the services rendered to the people of the village was shown to the students. Under the book donation drive in school, students of the Community Club collected a wide range of books in different genres including stories, novels, biographies, magazines and course books etc. Around 150 story books and magazines and 100-coursebooks were donated to the HOWL group. Students also interacted with the members of the HOWL group and got to know their working patterns, challenges and the support system. One of the students suggested an alternative source of electricity when he saw the people suffering due to frequent power failures. Solar lamps were also gifted to the villagers to solve the issue of power failures. Students gained insight into village life and wished to spend some time with the people of the village.
Visit to IDBA School
November 11, 2022
Students of classes III and Vaccompanied by their teachers visitedthe IDBA School (Indore Deaf Bilingual Academy)to meet the hearing impaired children. The students became aware about these children who are blessed with special powers and are living their lives beautifully with self-confidence and dignity.They visited their classes, learnt the sign language and experienced the different way of learning in the school. They also gifted clothes and stationery items as token of love.
Guest Lecture to Inculcate Responsibility
November 9, 2022
A guest lecture was conducted for members of the Community Service Club of class VI on November 9, 2022 to sensitize them for their responsibilitytowards the society. The guest was Ms. VibhaBiyani, mother of ParthBiyani, a student of the school. Ms. Biyani explained the students the term community and the meaning of community service. The students acknowledged the importance and benefits of doing community service like development of leadership quality, inculcating humanity, making others happy by fulfilling their needs etc.She suggested the students to note down some points / ways to contribute for upliftment of the society. The students enthusiastically interacted with her.
Guest Lecture to Create Sensitivity for Less Privileged People
October 29, 2022
A guest lecture was conducted for members of the Community Service Club of classes IX and X on October 29, 2022. The resource person Mr. Deepak Vibhakar Naik is a social worker who has received many awards for his contribution to make the society better and has also adopted a school. He interacted with the students and guided them how they could help the society in their small ways like celebration of special days with less fortunate children, giving free tuition to the underprivileged children, gifting things which they are not using etc. He urged the students to be a better and generous human being. He also talked about blood donation and its importance to build a safe healthy society. He encouraged the students by sharing his own experiences through a video presentation and answered all queries put forth by the students. The session ended with the students answering a questionnaire.
Project Veer Gatha
October 19, 2022
Gallantry award has been instituted by the government of India to honour the acts of bravery and sacrifice of officers / personnel of the armed forces. All the Gallantry winners choose the life of dignity and unwavering sense of duty.Taking cue from this, an activity was planned for the children of class III wherein they pasted the pictures of gallantry award winners and wrote few lines on their bravery and sacrifice.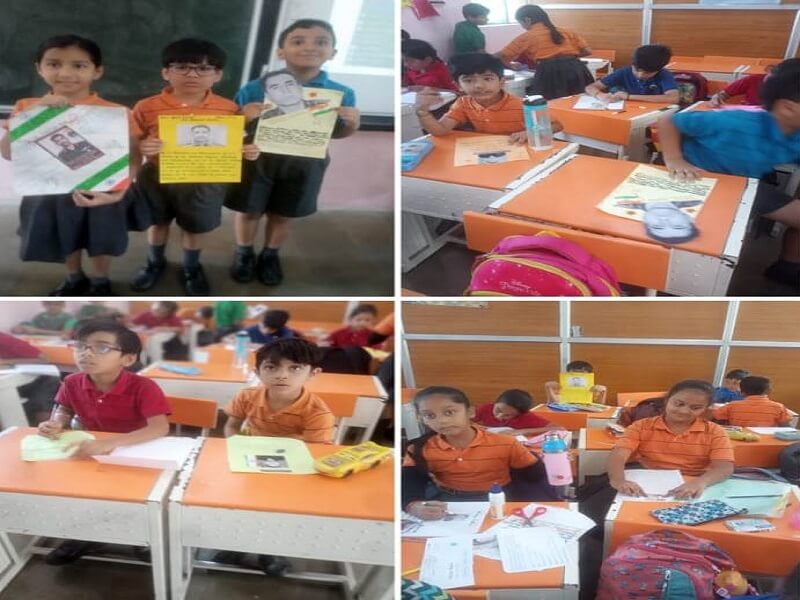 Guest Lecture for Instilling Values of Helping Others
September 20, 2022
A guest lecture by Ms. Madhvi Moyde, a social activist was organised for the Community Service club students of Class VIII. The students were excited to learn about the work experience of a young, energetic person in the field of Community Service and were motivated to extend their helping hands for the needy. The session was interactive wherein the students asked questions from the resource person who answered them enthusiastically.
Preparing Cloth Bags To Save Environment
September 16, 2022
Students of class VIII of the club prepared cloth bags in the month of September 2022 to promote usage of eco-friendly bags and discarding use of plastic bags. The waste cloth pieces were brought by the students, stitched by the club teachers and painted by the students.
Message Writing on Postcards
September 8, 2022
To learn a new form of communication without feeling the need of Facebook, WhatsApp or e-mails, an activity related to this was planned for the children of classes III to V. They expressed their love and showed gratitude towards their grandparents by writing small quotes and messages on it. The purpose of the activity was to make them aware about traditional way of communication. These postcards were dispatched so that their loved ones would come to know about the feelings of their grandchildren.
Rakhis Prepared To Show Gratitude To The Soldiers
August 8, 2022
Students of classes VI to X of the club prepared beautiful handmade rakhis using colourful decorative material, rolis, akshat etc. in the month of August 2022. They later sent them to the soldiers at MHOW Cantonment as a gesture of gratitude for their selfless service to the nation.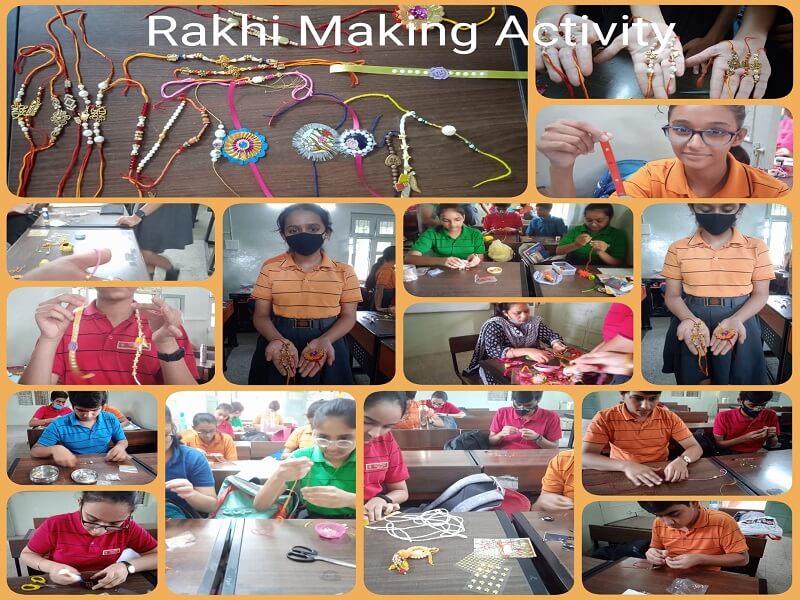 Book Donation Drive
July 20, 2022
Reading is important because it makes you knowledgeable and stimulates your imagination. It also helps in self-exploration. As a part of 'Reading Month Celebration' organised by CBSE, Book Donation Drive was conducted from July 1 to July 20, 2022 in the school encouraging students to donate old books. Students of the club will distribute them to the needy students of villages in order to inculcate reading habits in them.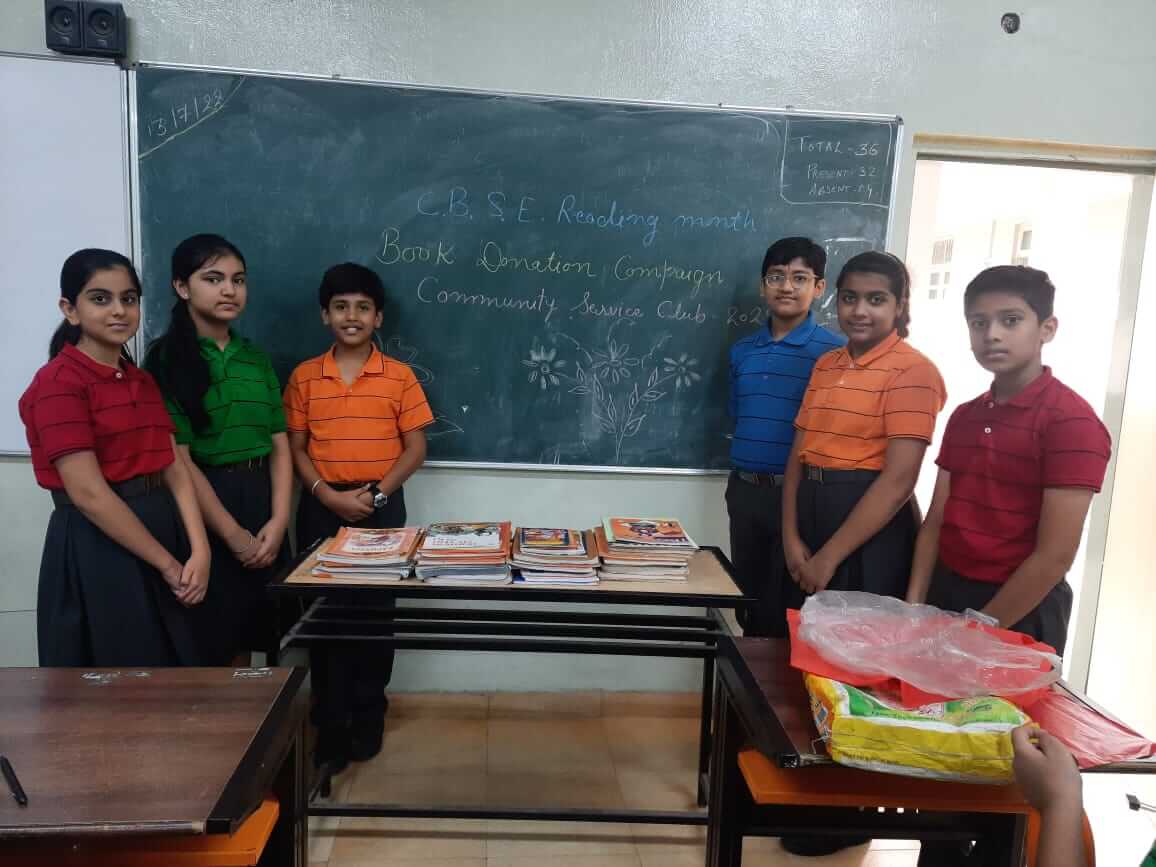 Gratitude Card Making Activity
July 14, 2022
Gratitude is a simple expression of appreciation for the things, people and happiness we have in our lives. To inculcate the habit of showing appreciation, an activity was planned for the children of classes III to V. They expressed gratitude towards Community Helpers by making beautiful cards and writing small thank you notes.
Artificial Lower Limb Distribution Camp Organised in the School
February 24, 2020
Artificial Lower Limb Distribution Camp was organized by Choithram School, Indore in association with Vijayant Scout group on February 22 and 23, 2020 and was held in Choithram School campus. Around 185 people from Indore, other cities of Madhya Pradesh and various states of India benefited from this two day camp. The beneficiaries were earlier called in the month of January, 2020 for diagnosis and measurement of amputated limbs. Subsequently, high-quality, light-weight artificial limbs were prepared as per the requirements in the form of Jaipur foot (above knee and below knee). 60 out of 185 persons were given calipers and crutches too. The beneficiaries were assisted by expert prosthetic technicians from Mumbai for fitting of the limb. 60 student volunteers of Choithram School along with their teachers lent a helping hand in the camp, assisting the beneficiaries at various stages from registration, limb fitting to lunch.
Visit to Sri Sri Gyan Mandir School
January 18, 2020
To inculcate the feeling of empathy and conscience amongst the students, a visit to Sri Sri Gyan Mandir School was organized for the students of class V on January 18, 2020. The students of our school were able to bring a smile on the faces of the students of Sri Sri Gyan Mandir School by spending time with them and presenting them stationery items.
Artificial Lower Limb Distribution Camp Organised in the School
January 12, 2020
Artificial Lower Limb Distribution Camp was organized by Ratnanidhi Charitable Trust Mumbai, Choithram School, Indore in association with Symbiotec Pharma Lab(P) Ltd and Rotary club of Indore, Uptown on January 12, 2020 in Choithram School premises. Around 185 people benefited from the camp. Students as well as teachers of Choithram School rendered their services for the noble cause. The process of distribution was completed in four phases – Registration, Photograph, Fixing the limb and Counseling of the amputees. The beneficiaries were instructed about the safety measures and precautions to help prevent the problem of artificial limbs.
Book Donation Camp – Mission Million Book Project
January 5, 2020
The school in association with Ratna nidhi Charitable Trust Mumbai and Rotary Club of Indore, Uptown organised 'Mission Million Book Project' wherein a donation camp was set up in the school for providing books to government schools on January 5, 2020. 30 volunteers from the Community Service Club participated in the same. They worked hand in hand with the other hearing and speech impaired volunteers. The students not only helped various representatives of different government schools in selection of books but also maintained a record of books being taken by each of the school. 124 government schools benefited from the camp.
Visit to Kasturba Gandhi National Memorial Trust
September 27, 2019
Class VIII students of Community Service Club, visited Kasturba Gandhi National Memorial Trust along with the students of Santa Maria Del Pilar School, Marianistas, Zaragoza, Spain on September 27, 2019. They observed an exhibition where the old letters, documents of past, diary of Gandhiji's wife Kasturba was displayed along with hand woven clothes, shawls and saree woven by Kasturba herself. They were in awe to get a chance to weave their own yarn from cotton over spinning wheel. They were told that all the students studying there weave their own clothes. This gave a glimpse in to the philosophy of 'Self Reliance' proposed and practised by Gandhiji which was the very basis of Indian Freedom Movement.
Food Donation Drive
August 11, 2019
'Food is symbolic of love when words are inadequate.' To spread the love of their hearts and feed the needy ones, a food drive was organised on August 11, 2019 by Community Service Club students in collaboration with Robinhood Army, Indore. The students distributed around 1000 food packets to the slum dwellers of Rau and Nehru Nagar, which were provided by the school as well as brought by the students from home.
Extending Helping Hand to Anubhuti Vision Sewa Sansthan
August 6, 2019
In order to inculcate the value of empathy and helping others, the students and teacher of 'Anubhuti Vision Sewa Sansthan' were invited to put up handmade rakhi stall on August 6, 2019 in the school. Students of Community Service Club helped the uniquely abled children of 'Anubhuti Vision Sewa Sansthan' to sell the rakhis made by them. The school community appreciated the efforts of the uniquely abled students and rendered a helping hand for their artistic work
Visit to Sankar Kendra, a School for Underprivileged Children
April 6, 2019
Students of class X of Community Service Club accompanied by Community Service Club Incharge teachers – Ms. Reshma Dave and Ms. Neelima Shah visited Sanskar Kendra, a school for the underprivileged children residing in slums near Vijay Nagar. They were accompanied by Ms. Paola Fatur, Senior Programme Manager, School Enterprise Challenge (Global Awards), Teach a Man to Fish, U.K. The visit aimed to transform the lives of these less fortunate children through educational approach. The teachers of the Sanksar Kendra Ms. Monica and Ms. Rekha briefed about the activities of the children at Sanskar Kendra. Students of the club gifted 30 children in the age group of 5 to 15 years of the Sankar Kendra stationery items, block games and story books. The students of the club displayed a sense of responsibility while distributing learning tools to these 'children of the lesser God'.